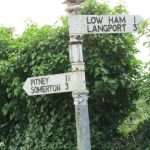 Thick fog and the Boomtown Rats on the car radio. Momentarily, it is December 1981. Riding in a car with Freda, a matriarch of the village, the lights of the Austin 1800 barely penetrate more than a few feet into the thick grey blanket. We go slower and slower until finally Freda brings the car to a halt. "I need to get out to see if we have reached the top of the hill". My Belfast girlfriend of only two months standing sits in the back trying to stifle laughter. Freda regards the matter as of the utmost seriousness, opens the door and steps out into the gloom. "It's all right", she calls, "we have reached the top of the hill. I can see the pub".
Freda stepped back into the car and we continued our ten miles per hour progress. It never became apparent why there was a need to ascertain whether we had reached the top of the hill: wouldn't it have become apparent from the tilt of the car? For years afterwards, when travelling through fog, there was a temptation to say we should stop to see where we were.
Freda was one of the kindest people I ever knew. It seemed that she had always been around and that she always would be. Of course, she was not, the passing years catch us all.
In one of those silly moments of thought, I wondered at what points I would have stopped time if I could have done so. There is a moment in the mid-70s, it was harvest time, my cousin Steve's Triumph Toledo was parked in a field and the Rolling Stones song "Angie" was playing on its radio – it was a good moment. Then there is, of course, the foggy drive with Freda, it could not be bypassed.
In the years that followed, the stops could be numerous, which ones would one pick from thirty years of marriage and family life? Getting married and the birth of the children would figure large, but many of the most memorable moments are not big things at all, but are the "Freda" moments, the daft and the silly things.
Maybe the little things count so much because it is in them that we can express and encounter individuality. Major life events are experiences lived in common with others, it is in the odd, and the eccentric, and the incomprehensible that personalities are unique. Stopping in the fog with Freda was a single, unrepeatable moment in time; everyone has such Freda moments.