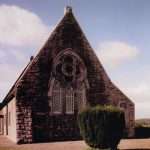 "the seed falling on good soil refers to someone who hears the word and understands it" Matthew 13:23
If Bob had to pick out a single favourite moment in his seventy-seven years, I think he would have chosen his visit to Canada in the 1990s. It was a trip that left him with many memories and much about which to talk. Thinking about Bob's descriptions of that visit, there are elements of it that seemed to match elements of Bob's life; it seemed a good way for us to look back over his years.
Bob would tell of the hard work that it had taken to establish the farms in Canada; the years spent with little reward; the determination demanded if one was to remain season after season on the land in the face of Canadian winters; the sense of satisfaction at bringing in a harvest each summer.
Bob understood hard work, it was something that had shaped his life from childhood days onwards. Bob would have been taught the value of hard work at home and, when he came to church, he would have learned the words of the Catechism,  "to learn and labour truly to get mine own living, and to do my duty in that state of life, unto which it shall please God to call me". When he read his Bible, in Saint Matthew Chapter 25, the Parable of the Talents would have told him of the importance of work. Hard work expressed Bob's attitude to life, to be always doing something, not to waste time, not to sit and take his ease when there were things to do. Call at Bob's house at almost any time during the day, and he would be doing something.
Bob would talk of the vastness of the farms and the massive scale of production, of the good Canadian soil in which the crops grew. Bob loved the land, he loved the passing seasons, he loved the beauty of the natural world, he loved the good soil.
The good soil is a picture of Bob's life, ground that produces a good crop. A good family member, a good friend, a good neighbour, Bob took seriously Jesus' teaching in Saint Matthew Chapter 13 where Jesus tells his listeners the Parable of the Sower. "The seed falling on good soil refers to someone who hears the word and understands it", said Jesus to the crowd. Bob sought to be like the good soil in the Parable, to hear the word of Jesus and to understand it. Sometimes he would sit in his kitchen and ponder things; ask questions to which he knew I had no answer; wonder about the unfairness of life; wonder about God's purpose in things; realize that being the good soil of the parable was not always something easy.
Talking of Canada, Bob would remember landscapes that went on forever, the huge openness of the country, the big skies, the sense of being something bigger than it was possible to imagine. When you are confronted with such endless horizons, it gives you a sense of perspective.
A sense of being part of something infinite gave Bob a great sense of perspective; it enabled him to enjoy great contentment; he never worried about the things of this world, he lived very plainly and very simply; material possessions were no more than passing things, why would anyone get excited about them? Bob would have read Jesus' words in Saint Matthew Chapter 6, "I tell you, do not worry about your life, what you will eat or what you will drink, or about your body, what you will wear. Is not life more than food, and the body more than clothing?" Bob did not worry about such things, even when he became ill, it was with a sense of gentle resignation. "Can any of you by worrying add a single hour to your span of life?" Jesus asked the crowd. Bob realized that worry would change nothing, that if you had a sense of perspective, you would see things as they really were.
Canada for Bob was a place filled with hope, a new world where people could escape the frustrations of the old, a place where a different life was possible, a place entirely different.
Bob's hope in this life was in a place to come, a place where all the old frustrations are gone forever, a place where life is changed for eternity, a place beyond our imaginations. In Revelation Chapter 21, Saint John writes of that place, "Death will be no more; mourning and crying and pain will be no more, for the first things have passed away.' Bob was confident of that place. When he read Jesus' words in John Chapter 14, he believed them. Jesus says, "if I go and prepare a place for you, I will come again and will take you to myself, so that where I am, there you may be also", and that was the hope that sustained Bob through his years and through his illness.
Hard, work, good soil, big skies, and a place of hope—impressions that Canada made on Bob, impressions he shared with us, impressions that give us pictures of his life. As we remember him today, may we be committed to hard work, may we try to make our lives good soil, may we have the sense of perspective that comes with seeing big skies, and may we place our hope in the Jesus in whom Bob believed.