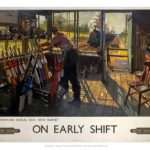 The "walk-in" clinic at the local health centre deals with Saturday morning emergencies. There are no appointments; one turns up and waits. A paperback book in the coat pocket is always advisable on such occasions, even if the number waiting is small, the waiting time is never easily estimated.
The book chosen is David Acheson's "1089 and all that: A Journey into Mathematics", one of our daughter's attempts at educating her father. It is literally pocket-sized, but reading and re-reading chapters on such matters as geometry and calculus doesn't really add much to the understanding, other than to realize that these things are simple for those who know about them.
It is on Page 73 that a moment of cheer arrives. The opening page of a chapter titled "Are we nearly there?" has a picture of a man operating a lever in a railway signal box. In the domestic detail of the picture, there is a sense of security. The plain kitchen chair, the tin bucket, the watering can, things from the ordinary homes of ordinary people. A milk can sitting on the floor beside the watering can its presence evocative of mugs of strong tea with two spoons of sugar. The man's back is turned, but once the signal is changed, one knows that he will turn with a smile and cheerful words.
Turning to the acknowledgements at the back of the book,a note says the picture is called "On Early Shift" (Greenwood Signal Box, New Barnet), is by Terence Cuneo and may be found in the National Railway Museum and Science and Society Picture Library. An Internet search reveals it was a British Railways Poster. The composition of the picture is not a matter of chance, there is an intention to convey a particular sense of railways to those who might see it. In the doctor's waiting room on a wet January morning, it spoke of a world that seemed safe and ordered, a world where a railway timetable symbolized a sense of purpose and direction, a world well regulated.
Writing in the Church of Ireland Gazette recently, Dr Ron Elsdon pondered why so many clergy are fascinated by railways. Perhaps there are rational explanations for the interest, which is confined to no particular theological tradition, but, for me at least, there are probably unarticulated, instinctive feelings which make railways attractive. Feeling tired, having had a bad week, Cuneo's deliberate portrayal of a well-oiled, well-maintained, well-ordered world  offered an alternative universe into which I would have happily stepped.