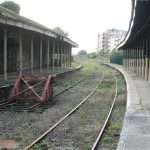 The leisure of a Sunday afternoon allowed conversation to wander from the stuff of everyday parochial life. A Roman Catholic colleague recounted tales from his days studying in Kilkenny. Being someone who has always been fascinated by railways, I asked him, "did you ever travel on the railway line through Ballyragget?"
"I did – and got off at Attanagh in order to get home to Durrow".
Knowing the places of which he spoke meant it was not hard to imagine his route from the station to his house; one evening I had gone to Attanagh to find the site of the station on a line that had closed in 1963 and traces of which have all but disappeared. It is odd, but closed railways seem always more intriguing than open ones, perhaps it is because they demand more imagination, perhaps it is because they belonged to the age of steam and to days when one might have imagined  stations as places of beauty and locomotives as objects of pride (even if the reality was often very different).
On one occasion, when reading a book on the railway stations of Somerset, my home county in England, I had declared to the Best Beloved. "When I retire, I want to visit all 180 Somerset stations".
"Oh, joy", she had muttered, "I suppose you'll want a flask of tea".
"Yes", I said, "and a rug for having picnics."
Being honest, there aren't 180 stations in Somerset; there are only thirty and eleven of those are on a railway preservation trust's line, but there once were. The three Somerset counties – Somerset, North Somerset and Bath and North East Somerset – had 180 stations on a web of different lines. Many of them were never viable, built distant from towns and villages in places where the population was sparse.
Railways have always had a special fascination for me, even though I know nothing nothing about engines or engineering. Maybe they represent an ordered world, a safe world structured by timetables. Maybe they were from a world where people were still courteous and where service came before profit.
Attanagh station is only one on a list of former stations I have found hidden in the Irish countryside. Last year, I spent a day tracing a route through Co Waterford and another the line from Moate to Mullingar in Co Westmeath
One day I shall set out and find those Somerset stations, I shall sit on my rug and drink my tea and ponder a world that is no more.