Sermon for Palm Sunday 2014: Sensing the Passion – Touch (First of Series of Five)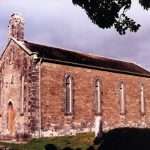 "Unless I see the mark of the nails in his hands, and put my finger in the mark of the nails and my hand in his side, I will not believe." John 20:25
"Sensing the Passion" is our theme this Holy Week, reading Saint Matthew's account of the events from Palm Sunday to Good Friday and trying to imagine how the disciples would have experienced those days through their five senses.
We begin with touch. After the resurrection, when Thomas hears the news that Jesus has risen from the dead, he says what many, if not most, of us would have thought: we would have wanted physical evidence. Like Thomas, we would have seen being able to experience something with our own senses as far more convincing than being told about it by someone else. Thomas is not just interested in seeing and hearing the risen Jesus, he wants to be able to actually touch the wounds of the crucifixion; he believes touch is necessary.
How much would the sense of touch have mattered to the disciples in the years that followed? Would the touch of certain things have brought memories of those momentous events?
As Jesus and his disciples approached Jerusalem on that first Palm Sunday, Saint Matthew Chapter 21 Verse 2 tells us, "Jesus sent two disciples, saying to them, 'Go into the village ahead of you, and immediately you will find a donkey tied, and a colt with her; untie them and bring them to me'". What did the disciples make of such an instruction? Were particular disciples chosen for the task? The Gospels don't suggest that any of the Twelve had experience in handling animals; perhaps it was expected that everyone would know how to put a halter on a donkey and lead it. Verses 6-7 say, "The disciples went and did as Jesus had directed them; they brought the donkey and the colt, and put their cloaks on them, and he sat on them".
Would a brush against a donkey's coat, the coarse rope of a halter in their hands, the weight of a cloak like that thrown across the donkey's back, would such touches have later reminded the disciples of that Sunday morning? How prepared would we have been to accept Jesus' request that we do something unfamiliar? How prepared are we to go out into the unknown with nothing more than Jesus' words that this is what God wants? The disciples go without complaint, and with confidence, to fulfil Jesus' instructions, are we so willing to do as he asks?
One of the features of Jesus' final days in Jerusalem is him going to find places that are solitary and quiet. At the end of Palm Sunday, we are told in Saint Matthew Chapter 21 Verse 17, "He left them, went out of the city to Bethany, and spent the night there". During those days he teaches the crowds on the Mount of Olives, but also finds it to be a place where he can be alone. In Saint Matthew Chapter 24, we see the disciples having to go to seek out Jesus, Verse 1 says, "As Jesus came out of the temple and was going away". But, in Verse 3, they catch up with him, "When he was sitting on the Mount of Olives, the disciples came to him privately". Acts Chapter 1 Verse 12 says, the Mount of Olives was "a Sabbath day's journey" from the city—no more than half a mile, but the sense of touch would have been very strong as they went to seek out Jesus. The city would have been a busy place, all the comings and goings of usual city life would have continued, but there would also have been hundreds of thousands of pilgrims gathering for Passover. It is not hard to imagine them having to squeeze through the crowds, having to tread easily on the uneven streets, having to watch their footing as they climbed the chalk hillside in search of Jesus. Did they feel hot, or uncomfortable, or short of breath, as they went to find him so they could speak privately?
As we read of the disciples seeking Jesus and think there was probably a degree of physical discomfort, perhaps we should ask ourselves how much we are prepared to be inconvenienced, to be discomforted, in practising our own faith. Do we put ourselves out? Does our seeking of Jesus ever lead us into situations we would rather not have met?
The first day of the Passover celebration arrived and, we read in Saint Matthew Chapter 26 Verse 17-19, the disciples asked Jesus, "Where do you want us to make preparations for you to eat the Passover?" Jesus tells them, "Go into the city to a certain man and tell him, 'The Teacher says: My appointed time is near. I am going to celebrate the Passover with my disciples at your house.' So the disciples did as Jesus had directed them and prepared the Passover". Making all the preparation for the Passover meal was a very tactile experience. Preparing the food, gathering and setting out all the necessary utensils, the sense of touch would have been very strong as they carried out Jesus' instructions. At Passover in the years that followed, performing those ordinary tasks would have recalled that room in Jerusalem.
Read the Gospel accounts of the preparations for that Passover meal and something unexpected emerges – the ordinary, commonplace tasks are performed by the leaders, there is no question of sitting and talking while others work. In Saint Luke Chapter 22 Verse 8 we are told, "Jesus sent Peter and John, saying, 'Go and prepare the Passover for us, that we may eat it.'" It is something usually overlooked by the church today, that leaders should share in ordinary duties and that men are perfectly able to carry out domestic tasks!
The sense of touch becomes very important as the meal progresses, Saint Matthew Chapter 26 Verses 26-28 say, "While they were eating, Jesus took a loaf of bread, and after blessing it he broke it, gave it to the disciples, and said, 'Take, eat; this is my body.' Then he took a cup, and after giving thanks he gave it to them, saying, 'Drink from it, all of you; for this is my blood of the covenant, which is poured out for many for the forgiveness of sins". The unleavened bread is shared, person to person and the cup is passed around: it is a physical, material experience. Each time we break the bread and share the cup, we recall that moment. Each time we break the bread and share the cup, the touch should recall what the disciples felt at that moment.
The meal past, Verse 36 tells us, "Then Jesus went with them to a place called Gethsemane; and he said to his disciples, 'Sit here while I go over there and pray.'"  The ground beneath them would have been hard and uncomfortable, but they are now tired after a long day and even the stony soil was not enough to stop them falling asleep. It is easy to think they should have stayed awake, but would we have done better? How committed are we in our faith? When we feel weary and tired, how prepared are we to keep going in our service to God?
One of the final moments of touch by the disciples was a moment of violence. As the authorities come to Gethsemane to arrest Jesus, Saint Matthew Chapter 26 Verse 51 says, "Suddenly, one of those with Jesus put his hand on his sword, drew it, and struck the slave of the high priest, cutting off his ear". It is violence that injures an innocent person, as violence so often does. "Put your sword back in its place", says Jesus, words that the Church would forget in later centuries that followed as it imposed its beliefs through the use of force. Violence seems to have become part of our culture; it is the stuff of popular entertainment: the more violent a film or television programme, the more popular it seems to be. Next time there is such a moment, remember that moment in Gethsemane, violence almost always injures the innocent.
As we progress through Holy Week and the story again unfolds, may our own sense of touch help us recall those moments and may it draw us closer to Jesus.