Sermon for Maundy Thursday 2014: Sensing the Passion – Sight (Fifth of Series of Five)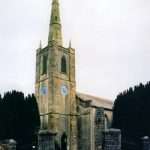 "Many women were also there, looking on from a distance; they had followed Jesus from Galilee and had provided for him".  Matthew 27:55
"Sensing the Passion" has been our theme this Holy Week, reading Saint Matthew's account of the events from Palm Sunday to Good Friday and trying to imagine how the disciples would have experienced those days through their five senses. This evening we reach the fifth and final sense, sight: what scenes confronted the disciples? What things would they have remembered? How would they have been changed by what they saw?
The ride into Jerusalem on Palm Sunday was a very visual enactment of a prophecy. There is a great Biblical tradition of prophecy taking place not just in words, but in actions. Acted prophecies occur frequently in the Old Testament. In Jeremiah Chapter 35, the prophet is told to go to the Rekabites, who were total abstainers, and to offer them wine. The Rekabites, in accordance with their tradition, refuse to drink the wine and their action is shown as a sign of how they have been faithful to God while others have been unfaithful. In Chapter 13 he buys a linen belt which he is told to bury; the belt rots and becomes useless as a sign of what will happen to Judah. In Chapter 19, he goes out to the valley of Ben Hinnom with the elders of the people taking with him a clay jar and he smashes the jar as a prophecy of what will happen to the people. In Chapter 27, Jeremiah is told to make a yoke from wood and leather and to walk around with it on his neck as a sign of how the people will be put under the yoke of the Babylonians. As Jesus is seen riding into Jerusalem on a donkey, the disciples would have seen this moment as Jesus acting out the prophecy of Zechariah Chapter 9 Verse 9.
Our knowledge of the Bible is not as good as that of former generations, if we simply saw a picture of the entry into Jerusalem, would we know what was taken place? Would we see it as a prophetic action?
The dramatic entry to the city is followed by further action. Saint Matthew Chapter 21 Verse 12  says, "Then Jesus entered the temple and drove out all who were selling and buying in the temple". It is a scene that would have frightened and alarmed even Jesus' friends; they would not have been accustomed to seeing people favoured by the authorities being treated in such a way. They would have watched in wonder and perhaps wondered what consequences might follow.
Seeing Jesus attack corruption, seeing him attack influential people, is a challenge to us as Christians. Do we speak against wrongdoing? Do we say that Jesus did not tolerate corruption and nor will we? Or do we prefer to keep our heads down? Do we prefer to see our faith as a private and personal matter?
Seeing things is sometimes perplexing for the disciples, they do not understand what is going on. Jesus curses a fig tree and Saint Matthew Chapter 21 Verse 20 tells us, "When the disciples saw it, they were amazed, saying, 'How did the fig tree wither at once?'" As Jesus is leaving the temple in Saint Matthew Chapter 24 Verse 1, "his disciples came to point out to him the buildings of the temple" and Jesus says to them in Verse 2 "You see all these, do you not? Truly I tell you, not one stone will be left here upon another; all will be thrown down".
Twenty centuries later, we read of the disciples' confusion at the fig tree and at the prophecy of the destruction of the temple, which happened in 70 AD , combined with a prophecy of the end times, and they are still confusing passages. Why did Jesus curse the tree, it was not the season for figs? Why did Jesus talk about the destruction of the temple, which would happen in the lifetime of some of those present, while at the same time talking of the end of time? People can speculate endlessly on these matters, and do so. Perhaps the conclusion from the incidents is that God, being God, will do things in his own way in his own time and that there are sometimes things that we must simply accept.
Gathered for the Passover meal, among the many words that are shared by those around the table there are the actions that are performed as part of the meal and then the actions of Jesus as he takes and breaks the bread and blesses the cup. Saint Matthew Chapter 26 Verses 26-28 describe it, "While they were eating, Jesus took a loaf of bread, and after blessing it he broke it, gave it to the disciples, and said, 'Take, eat; this is my body.' Then he took a cup, and after giving thanks he gave it to them, saying, 'Drink from it, all of you; for this is my blood of the covenant, which is poured out for many for the forgiveness of sins". The disciples would have watched every movement.
As the bread is broken this evening, as the cup of wine is shared, they recall that moment on a Thursday evening in Jerusalem; what we see being as much part of the remembrance as the words we hear.
The meal past, they go to Gethesemane where the weary disciples fail to stay awake as Jesus spends time in prayer. IN Saint Matthew Chapter 26 Verse 46, Jesus stirs them from their slumbers. "Get up, let us be going. See, my betrayer is at hand.'" "See", it is a visual moment; it is a moment where only seeing what is happening conveys the full reality. Reading the story now, it is easy to miss the reality of the situation, Verse 47 says, "Judas, one of the twelve, arrived; with him was a large crowd with swords and clubs, from the chief priests and the elders of the people". They are prepared for violence against Jesus.
Living in a safe and secure country, the threat of violence is not something real for us. Many Christians in our world would read the words describing what happened in Gethsemane and would know exactly what it was like to see a crowd armed with knives and clubs, we can only try to imagine.
Jesus is arrested and taken to the house of the high priest, Saint Matthew Chapter 26 Verse 58 tells us, "But Peter was following him at a distance, as far as the courtyard of the high priest; and going inside, he sat with the guards in order to see how this would end." Matthew's words are intriguing, "to see how this would end". What end might Peter have imagined? What end might realistically have been expected, given all that has so far happened?
We have read  this story so often that we lose sight of how painful it must have been for Peter. If we put ourselves in that courtyard, what would we have hoped to see? What would we expect to see? What would we have done about what we did see?
Jesus is taken from the high priest to Pilate where there is no more than a pretence of a trial and Jesus is then crucified. We have been thinking about what the disciples saw but the sights must also have affected others present. We read about the soldiers in Saint Matthew Chapter 27 Verses 35-36 "And when they had crucified him, they divided his clothes among themselves by casting lots; then they sat down there and kept watch over him". What did the soldiers think as they kept watch? What thoughts went through their minds? They are changed by what they see.  Verse 54 says "Now when the centurion and those with him, who were keeping watch over Jesus, saw the earthquake and what took place, they were terrified and said, 'Truly this man was God's Son!'"
The soldiers kept watch and the women kept watch, Saint Matthew continues in Verses 55-56, "Many women were also there, looking on from a distance; they had followed Jesus from Galilee and had provided for him. Among them were Mary Magdalene, and Mary the mother of James and Joseph, and the mother of the sons of Zebedee". These days completely changed the lives of those who were there, those who saw all that had happened.
Reading the story now, trying to see with our own eyes all that took place, are we like the soldiers, prepared to say, "Truly this man was God's Son"? Are we like the women, prepared to follow Jesus wherever it may take us? Seeing this man on the Cross, how are we changed?