Sermon for Sunday, 1st June 2014 (Easter 7)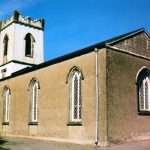 "Now this is eternal life: that they may know you, the only true God, and Jesus Christ, whom you have sent". John 17:3
Last Sunday, I attended a church in England. As well as the Rector, there were seventeen people there: a woman in her forties with her two daughters and fourteen people who were past retirement age. It was a depressing experience, a sense that the place would keep going until numbers fell to the point where there were not enough people to keep the door open.
Is that what church is about? Trying to keep things going for just a while longer? Look at what Jesus talks about in Saint John Chapter 17 Verse 3, "Now this is eternal life:.
Eternal life—eternal life— we have the best; the most attractive; the most wonderful; the most fantastic; the most excellent thing in the entire world to offer to people—why would any church be closing? Why aren't we so full that we have to build more? If this is what it's all about, then there is nothing to fear, there is nothing to worry about. If the church is, as Jesus says, about eternal life, then there is nothing that can get us down, nothing that can beat us.
But I wonder if that's what we ourselves as concerned with. I have referred in the past to the American Catholic writer, Judy Esway. Here's what she remembers from the days of her Catholic childhood:
"As a child I had a beautiful, simple faith. But it faded as I got older. There is one especially vivid memory I have of a time when I was still young. I must have been in third or fourth grade. I was sitting in church during Mass, and something struck me as being strange. I looked around at all the people. They had the most serious, deadpan looks on their faces, yet the words they were speaking were so full of power. In drab, monotone voices they were saying,
"And he will come again."
I looked around thinking, who's going to come again? Are they talking about Jesus?
"And we will see him face to face." I started to get a bit excited. We're going to see Jesus face to face?
"And the dead will rise." The dead will rise? You mean we won't have to stay dead? This was good news. This was fantastic news. Why weren't these people smiling? Why weren't they happy?
Finally I heard them say, "And we will live forever." Well, this was really the clincher. We're going to live forever? Why weren't they dancing in the aisles? Why weren't they clapping and shouting if they were going to live forever? On that sad day it dawned on me: these people must not believe what they are saying. And so I stopped believing it too."
Judy Esway would say that Jesus' words to us this morning are the clincher, "Now this is eternal life: that they may know you, the only true God, and Jesus Christ, whom you have sent". If we believe then we have the promise of eternal life, and if we really believe, then there can be no more important thing in the world.
If there are churches that are in terminal decline, if there are churches being threatened with closure, and if we have the best piece of good news in all the world, then what is going on? Maybe it's because we're not sharing the good news, and if the Church of Ireland is not sharing the sharing the good news, then maybe it's time that we asked ourselves, why? Is it because we don't really believe it ourselves?
I don't understand the purpose of a church if it's not here to tell people about Jesus. There is no point in keeping a church going for the sake of sentiment or tradition; why keep an building open simply for the sake of keeping it open?
If we are the sort of churches that Jesus intended, then we will grow and be filled with new life. If we're not being the people he intended, then our efforts will be pointless. There used to be a text from Psalm 127 on the wall at school, "Unless the Lord builds the house, they labour in vain that build it". Those words seems very appropriate to what's happening in the Church of Ireland, we can struggle along trying to keep going by our own efforts, or we can say let's try to do the things Jesus told the church to do and see what happens.
"Now this is eternal life: that they may know you, the only true God, and Jesus Christ, whom you have sent".
We have the best thing anyone can offer. Confident in that faith, there is nothing we cannot do.