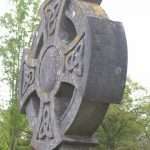 "Eternal life" is the theme in the morning. The only problem it presents is that there are some in the church, particularly clergy, who simply do not believe in it: the bishop in C.S. Lewis' book "The Great Divorce" is alive and well. In the story, the writer finds himself on a bus that shuttles between Heaven and Hell and finds himself in conversation with a Bishop who refuses to believe in such things.
"Why my dear boy you were coming to believe in a literal Heaven and Hell!"

"But wasn't I right?"

"Oh, in a spiritual sense, to be sure, I still believe in them in that way. I am still, my dear boy, looking for the Kingdom. But nothing superstitious or mythological . . ."

"Excuse me. Where do you imagine you've been?"

"Ah, I see. You mean that the grey town with its con­tinual hope of morning (we must all live by hope, must we not?), with its field for indefinite progress, is, in a sense, Heaven, if only we have eyes to see it? That is a beautiful idea."

"I didn't mean that at all. Is it possible you don't know where you've been?"

"'Now that you mention it, I don't think we ever do give it a name. What do you call it?"

"We call it Hell."

"There is no need to be profane, my dear boy. I may not be very orthodox, in your sense of that word, but I do feel that these matters ought to be discussed simply, and seriously, and reverently."
Not only does the bishop refuse to believe in hell, he refuses to leave it.
"Happiness, my dear Dick," said the Ghost placidly, "happiness, as you will come to see when you are older, lies in the path of duty. Which reminds me . . . Bless my soul. I'd nearly forgotten. Of course I can't come with you. I have to be back next Friday to read a paper. We have a little Theological Society down there. Oh yes! There is plenty of intellectual life. Not of a very high quality; perhaps. One notices a certain lack of grip – a certain confusion of mind. That is where I can be of some use to them. There are even regrettable jealousies . . . I don't know why, but tempers seem less controlled than they used to be. Still, one mustn't expect too much of human nature:. I feel I can do a great work among them. But you've never asked me what my paper is about! I'm taking the text about growing up to the measure of the stature of Christ and working out an idea which I feel sure you'll be interested in. I'm going to point out how people always forget that Jesus (here the Ghost bowed) was a comparatively young man when he died. He would have outgrown some of his earlier views, you know, if he'd lived. As he might have done, with a little more tact and patience. I am going to ask my audience to consider what his mature views would have been. A profoundly interesting question. What a different Christianity we might have had if only the Founder had reached his full stature! I shall end up by pointing out how this deepens the significance of the Crucifixion. One feels for the first time what a disaster it was: what a tragic waste . . . so much promise cut short. Oh, must you be going?

"Well, so must I. Goodbye, my dear boy. It has been a great pleasure. Most stimulating and provocative. Goodbye, goodbye, goodbye."

The Ghost nodded its head and beamed on the Spirit with a bright clerical smile-or with the best approach to it' which such unsubstantial lips could manage – and then turned away humming softly to itself "City of God, how broad and far."
Of course, reading Lewis' words would no more convince the listeners than the Ghost is convinced by the student.