Joxer is not in Brazil because of economics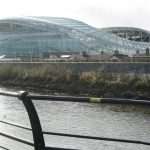 Another World Cup begins. In this part of rural Ireland, there has hardly been a word about it in ordinary conversations. The matches are late at night and there is no Irish participation; Gaelic games will capture more imaginations as the All Ireland Championships begin.
Italia '90 is now a long time ago. It really was a nation-stopping moment; there was hardly a soul in the country not watching. Staying in Oughterard in Co Galway at the time, the half time break in the dramatic match allowed a quick trip to the supermarket – the street and the shop were deserted. A solitary young woman sat at a checkout wondering how things were progressing.
Football championships were mythical moments. It is twenty-six years ago today that Ireland beat England in the finals of the European Championships of 1988, a moment which inspired Christy Moore's song "Joxer goes to Stuttgart."
It seems as though it will be a long time before Joxer goes anywhere again. This week's 5-1 defeat in a friendly against Portugal showed the gap between Ireland and the top sides, but is it realistic to expect more?
Look at the squad for Italia '90, and the clubs for which they played:
Packie Bonner Glasgow Celtic
Chris Morris Glasgow Celtic
Chris Hughton Tottenham Hotspur
Mick McCarthy Glasgow Celtic
Kevin Moran Manchester United
Ronnie Whelan Liverpool
Paul McGrath Manchester United
Ray Houghton Liverpool
John Aldridge Liverpool
Frank Stapleton Derby County
Tony Galvin Sheffield Wednesday
Tony Cascarino Millwall
Liam O'Brien Manchester United
David Kelly Walsall
Kevin Sheedy Everton
Gerry Peyton Bournemouth
John Byrne Le Havre
John Sheridan Leeds United
John Anderson Newcastle United
Niall Quinn Arsenal
and compare the clubs represented in the squad of two decades ago with those called up for the Ireland squad for this summer's friendlies:
 David Forde  Millwall
Joe Murphy  Coventry City
Rob Elliot  Newcastle United
 Ian Lawlor  Manchester City
John O'Shea  Sunderland
Stephen Kelly  Reading
Stephen Ward  Brighton & Hove Albion
Séamus Coleman  Everton
Marc Wilson Stoke City
Ciaran Clark Aston Villa
Damien Delaney Crystal Palace
Richard Keogh  Derby County
Alex Pearce Reading
Shane Duffy Everton
Aiden McGeady Everton
Glenn Whelan Stoke City
Jonathan Walters  Stoke City
Paul Green Ipswich Town
James McClean Wigan Athletic
Wes Hoolahan Norwich City
Daryl Murphy  Ipswich Town
David Meyler  Hull City
Jeff Hendrick  Derby County
Stephen Quinn  Hull City
Anthony Pilkington Norwich City
Robbie Keane  LA Galaxy
Kevin Doyle  Queens Park Rangers
Shane Long  Hull City
Simon Cox Nottingham Forest
Conor Sammon  Derby County
Anthony Stokes Celtic
Much of the 1990 squad was drawn from clubs at the very  top of English football – three players from Liverpool, who had won the championship six times in a decade; three from Manchester United, whose era of dominance was about to begin. There were players who were household names. The 2014 squad has not a comparable presence of players whose experience is at the top, who are playing among international players on a weekly basis, just one comes from a Champions League club, and he is not yet established as a first team player.
It is not that the Irish players are any less skilled than their predecessors; it is that the places they once filled at the top of English football are now filled by players drawn from around the world. The worldwide marketing of English football has meant that the sheer spending power of Premier League Clubs allows them to sign whomsoever they choose from wherever they choose, leaving Irish players deprived of the experience they might have enjoyed in former times.
If Joxer never gets another trip, it is not the fault of Martin O'Neill, the Irish manager; it is about economic globalisation beating Ireland.