A long way from Tipperary
Yesterday, it was a fine summer's evening in the North Tipperary town of Templemore; an evening when there was time to pause and ponder. Walking from the Church of Ireland parish church, which lies at the Roscrea end of the town, a small stone cross close to the pathway caught the eye; inscriptions in German are not frequent in Irish churchyards.
"Hier ruht unter lieber kamerad L. Spellerberg vom Inf Regt 212 21e Komp am 21 Feb 1895 aw 21 Jan 1915"
Below here lies our dearly loved comrade. A German infantryman, dead a month short of his twentieth birthday and lying buried in Templemore, how did he come to be in a place so far from home?
A History Ireland piece by John Reynolds of the Garda Síochána College in Templemore reveals that his name was Ludwig Spellerberg and that he was among 2,300 German prisoners of war who were held at Richmond Barracks in Templemore in conditions that seemed very humane in violent times. Ludwig Spellerberg died not through wounds from military action, but from food poisoning. Presumably a Protestant, he was buried with full military honours by members of the Leinster Regiment.
The German General Staff account of the first battle of Ypres in the autumn of 1914 say the 212th Infantry was involved in the capture of the Belgian village of Gits on 19th October. Perhaps it was in those fields of Flanders that Ludwig Spellerberg fell into allied hands and from there found himself transported to a small town in Ireland.
Templemore was not to be Ludwig Spellerberg's last resting place. The German War Graves Commission, the Volksbund Deutsche Kriegsgräberfürsorge, opened a military cemetery at Glencree in Co Wicklow in 1961 and the mortal remains of German soldiers buried in various parts of Ireland were brought to a place of beauty and tranquility. Permission was given for the cross in Templemore to remain in place. The Glencree cemetery has a commemorative poem by Stan O'Brien's inscribed upon a memorial stone:
It was for me to die
Under an Irish sky
There finding berth
In good Irish earth
What I dreamed and planned
bound me to my Fatherland
But War sent me
To sleep in Glencree
Passion and pain
Were my loss my gain:
Pray as you pass
Searching the Internet for information on Ludwig Spellerberg revealed something interesting. A photograph of the cross in Templemore churchyard taken in 2007 show a memorial stone spotted with lichen, and an inscription not easily legible.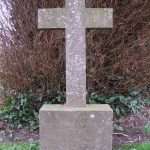 The cross as it now stands is cleaned and fresh, and its inscription has been relettered. The men of the Leinster Regiment who buried their former enemy with full military honours would undoubtedly have approved of such respect for the dignity of a soldier.