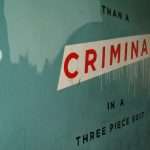 "Torpor"is defined as "a state of mental and motor inactivity with partial or total insensibility".
"Torpor"was painted in large black letters in the stairwell of the flats on the edge of Manchester's Moss Side in the winter of 1981. The area had exploded into rioting that spring, but by the time of the dark days, with their cold Lancashire drizzle, there was an air of resignation and hopelessness.
The stairwell stank constantly of urine; the lifts did not work for much of the time, and, when they did, smelt even worse than the stairs. The occupied flats were those with boards nailed over the windows; not to cover your windows invited the removal of the window frames and the removal of your furniture by opportunists who prowled the walkways that passed the front doors. (One night, a flat that had been boarded up was cleared by men gaining access from the roof of a removal lorry through a window that was at least fifteen feet from the ground ). The only dwellers in the crescents of flats were students, for whom the tiny rents represented a chance of avoiding debts, and vulnerable people who could find nowhere else.
"Torpor" seemed an odd thing for anyone to paint; maybe it was the name of a punk rock band, a few of which were still around; maybe it was just a considered comment on the state of insensibility to which people seemed to have been reduced by a cocktail of crime, violence and institutional neglect.
Torpor seems to have spread; if it is not contradictory, the inertia it brings seems to have gathered momentum. The riots of 1981 sprang from a deep sense of alienation that the government was to acknowledge, a sense of alienation now seems only to deepen a sense of resignation, a sense of powerlessness.
Look at participation levels in elections, look at the degree of political awareness, look at the low level of participation in community activities, and there seems a deep sense of torpor. Energy that might once have been devoted to raising a voice of protest is now devoted to pointless exchanges on social media; energy that might once have been used playing sports, or at least watching going to grounds to watch sports, now extends not much further than flicking through the channels on the television.
Graffiti now runs little further than obscenities or racism. How many people would there now be with sufficient awareness and motivation to paint a word like "torpor" on a concrete wall?