Sermon for Advent Sunday, 30th November 2014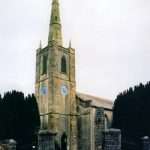 "But about that day or hour no one knows, neither the angels in heaven, nor the Son, but only the Father. Beware, keep alert; for you do not know when the time will come" Mark 13:32-33
God is cosmic. God cautions us. God is coming.
Jesus talks of a God who is not just there in the lives of his followers, not just there as a deity for people on Earth, but as a God who affects the cosmos in which this small planet of ours exists. We encounter cosmic events in Saint Mark Chapter 13 Verses 24-25, "the sun will be darkened,and the moon will not give its light, and the stars will be falling from heaven,and the powers in the heavens will be shaken". God's presence is not just in the hearts and minds of believers on Earth, says Jesus in verse 26, "Then they will see the Son of Man coming in clouds with great power and glory". God gathers his people not just from among those on Earth, but from deep in space says verse 27, "Then he will send out the angels, and gather his elect from the four winds, from the ends of the earth to the ends of heaven".
Whatever we may think of people's understanding of time, space and science in the time of Jesus, Jesus' message to his followers is clear: God is a God of the whole cosmos. When we see our faith in those terms, not as something that is just personal, not as something that is just local, not as something that is just national, not as something that is even just international, but is a faith in something cosmic, then shouldn't that make a difference to us?
God ceases to be the business of just the local church, or the business of just the local parish, or just the denomination, or just the country, or even just the worldwide church, God becomes something truly universal. The presence of God in our cosmos, shaping the very universe in which we live, is spoken of in the opening chapter of Genesis. In those pre-scientific times, before there was a fraction of the understanding of science that we now have, there was an awareness of God's presence, in the beautiful language of the King James Version, "the Spirit of God moved upon the face of the waters".
If God is a cosmic God, should that not change us? When we look at the things that concern us as individuals, as local churches, and then when we think of God as he is, somehow much of what occupies our thoughts and conversations seems very small and trivial. When we see God as cosmic, then everything is set in a different perspective.
God is cosmic. God cautions us.
Jesus points to a familiar sight to explain to his friends that they should take seriously the signs of the times. In Saint Mark Chapter 13 Verse 28, he tells them, "From the fig tree learn its lesson: as soon as its branch becomes tender and puts forth its leaves, you know that summer is near." Did the people of Jerusalem listen to him? Did they recognize the signs of their own times? "Truly I tell you, this generation will not pass away until all these things have taken place", says Jesus in verse 30. Had we read the whole chapter, we would have read Jesus prophesying the destruction of the Temple and the persecution of Christians, many of those listening to him would have been alive when these things took place. The Jewish revolt in AD 70 brought the desecration and destruction of the Temple; in AD 85 Christians were put out of the synagogues, it brought a loss of legal protection and often violent persecution. Had the people learned the lesson of the fig tree, they would have seen what was coming, they would have realized that violence brings violence and intolerance brings intolerance (centuries later, Jewish intolerance towards Jesus and his followers would bring horrific Christian intolerance towards the Jews).
"Heaven and earth will pass away, but my words will not pass away", Jesus cautions us in Verse 31. Learning the lesson of the fig tree is as important for us as it was for the people of Jerusalem. If we look at our misuse of a Creation given to us by our cosmic God, if we look at the violence that comes from intolerance, we see a danger of destruction as great as the destruction of Jerusalem. If we destroy the good Earth God has given us, if our world descends into conflicts brought by religious sectarianism, then we shall have failed as badly as those who ignored Jesus in Jerusalem.
God is cosmic, God cautions us, God is coming.
Many evangelical Christians seem to spend a large amount of time speculating on when God might return. This is nothing new in the church, since the end of the First Millennium over a thousand years ago, there have been people forecasting the End. Some Christian leaders have made fools of themselves (and damaged the witness of the church in the process) with predictions of the return of Jesus. Jesus himself speaks plainly on the matter in Verse 32, "But about that day or hour no one knows, neither the angels in heaven, nor the Son, but only the Father."
Why is it important to believe in a God who comes back at the end of time? Because it says that God is sovereign and that our faith means something and that it is going somewhere. If we did not believe God was there at the end of time, why would we believe at all? If at the end there was not someone who made sense of the pain and mystery of this life, then what would be the point of believing? How do we cope with tragedies and injustices if there is no just judge at the end?
God is coming. If we do not meet him in this world, he will be there in the next and none of us know when our moment of arrival in that world might be. "Beware, keep alert; for you do not know when the time will come", says Jesus. Each week when, in the words Creed, we declare our own faith , we say we believe the time will come. We do not know when, but we believe it will come.
God is cosmic. God cautions us. God is coming.