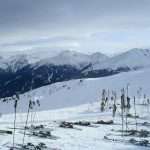 It is very quiet.
The morning bus that might have had only standing room in former years is only half-filled. At the ski hire shop, where Sunday mornings would have meant queues of those who had arrived on the previous day for a week's holiday, there is no-one waiting for service: the customers are outnumbered by the staff. At the ski school office, a handful of people stand around. When everyone has arrived, the number of people for tuition is no more than twenty, enough work for no more than three of the instructors.
Sitting on a bus with one of the instructors, he says the Russians came for just one week this season. "They make jokes", he said, "one of them said that the Rouble was very good for keeping them warm because the notes burned very well".
The attempt to protect Ukraine from Russian aggression by imposing a sanctions policy against the dictatorial Putin might be considered a good thing by Western liberal commentators, but how many of them experience the practical effects of those sanctions, at the sharp end?
The experience of one small Austrian ski resort is probably being replicated many times over; people who once came and stayed in the hotels, and spent money on food and drink, and were happy to pay large amounts for lift passes and skiing instruction, are now just no longer here (and may not return for years, if at all). Money, which once gave employment and wages to local people, has gone.
It is always the case that in any conflict the most vulnerable suffer the most, so those who had casual, seasonal work find such opportunities severely reduced, those who tried to supplement small incomes by working in the hospitality industry find that their presence is no longer required.
Was it the intention of those pursuing sanctions to hurt low paid Austrian workers? Presumably not. What is clear is that while politicians speak in fine words, they seem rarely to consider the likely outcome of the words they say. With a major source of revenue reduced by the impact of the sanctions, those affected are hardly likely to feel favorably disposed towards the Western governments pursuing the sanctions policy.
And it seems hard to imagine that the ordinary Russians are anymore impressed than the people here – sanctions are more likely to hurt the weaker and the vulnerable than to protect those the policy is ostensibly designed to affect. It cannot be beyond the wit of those who take decisions to really consider what it is they are doing.