Sermon for the Conversion of Saint Paul 2015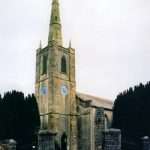 "The Lord said to him in a vision, 'Ananias.' He answered, 'Here I am, Lord.' Acts 9:10
When we Scripture, it is natural that we look at the words and actions of the important people in the stories, it is natural that we look for the major themes and the important questions, but when we do so, there is always a danger we miss out on smaller details that might have much to teach us.
How many people in most congregations could tell us who Ananias was? How many  people would think it likely that someone who played such a small part in the story had much to teach us?
When we read the story of the conversion of Saint Paul, Ananias is usually overlooked. Who would think that he might have anything to say to us in the 21st Century?
Ananias might not have appeared in the story at all, he might have chosen to ignore the vision, to have thought that the Lord would hardly call anyone to such an unlikely task.  Ananias has good reason to ignore the vision the words that come to him in the vision described in Acts Chapter 9 Verses 11-12, "Get up and go to the street called Straight, and at the house of Judas look for a man of Tarsus named Saul. At this moment he is praying, and he has seen in a vision a man named Ananias come in and lay his hands on him so that he might regain his sight". It would have been terrifying for Ananias to contemplate having to visit the house in Straight Street where Saul of Tarsus is staying. Saul isn't just rude to people, he doesn't just harangue them; he has them arrested; he has them thrown into prison; he has them killed.
Ananias hears God's voice in a vision and Ananias is none too happy about it.  He responds to God in Acts Chapter 9 Verses 13-14, "Lord, I have heard from many about this man, how much evil he has done to your saints in Jerusalem; and here he has authority from the chief priests to bind all who invoke your name." But God is adamant in Verses 15-16, "Go, for he is an instrument whom I have chosen to bring my name before Gentiles and kings and before the people of Israel; I myself will show him how much he must suffer for the sake of my name."
It was with trembling and trepidation that Ananias would have plucked up courage and gone to the house. On arrival, the words he uses are striking, "Brother Saul". No matter how he personally felt about this meeting with Saul, he was there to speak on behalf of Jesus and in the eyes of Jesus they were brothers. Then Ananias explains, in Verse 17, why he is there, "the Lord Jesus, who appeared to you on your way here, has sent me so that you may regain your sight and be filled with the Holy Spirit.".
Why is Ananias needed at all? Why could God not simply have cured Saul? Because the Christian Gospel is about flesh and blood people, it's not just about us praying upwards to God, it's about our relationships with other people. Saul who becomes Paul is the one who is going to stress time and time again that we are all equal before God and that there should be no divisions between us.
Ananias is there to show that Saul is accepted by the Christian community, that he is welcome among them as a brother. What does his example say to us?
Remembering Saint Paul today, we acknowledge that none of us is ever going to be a Saint Paul. We are more like Ananias, we are bit part players and like Ananias we can play our part. We have people that we are wary about, perhaps we would admit that there are even people who terrify us. Why not take a risk, though, and stretch out a hand of friendship to someone we avoid? Even if we feel as fearful as Ananias, why not greet the person as a brother or sister as Ananias greeted Saul?
Saul was changed by that meeting with Ananias, the person we meet can be changed by meeting with us. Saul was chosen for God's work, that same God has work for each of us.