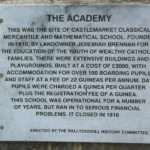 The installation of new drains, or similar civil engineering works, have closed the Kilkenny road at Durrow. Anyone who drives the road will know that there are few alternative routes and that whichever alternative one chooses, it is ill-fitted to cope with the traffic usually carried  by the main road, particularly ill-fitted to carry the many milk tankers trying to reach the large milk factory at Ballyraggett.
The designated alternative route, the one indicated by large signs, is the road northward from Ballyraggett, through Ballyouskill and Ballinakill, to Abbeyleix. On a gentle summer's evening, it is a pleasant drive, winding its way from Kilkenny to Laois. At one point, just at the Laois border, there is a ninety degree bend and it is realistically no more than a single track road. Even when quiet, it is not a road on which one can hurry, without endangering both oneself and others.
Sometimes, when there is a line of slow-moving traffic, it is therapeutic just to pull off the road for a few minutes. The tailback will either clear or it will be caught, either way, the time is not lost.
So it was, that pulling into a gateway to a field an unlikely plaque caught the eye. Erected by the Ballyouskill History Committee, it described what had once stood among these wintry fields, now being passed by drivers wishing to be on a different road.
THE ACADEMY

This was the site of Castlemarket Classical,Mercantile and Mathematical School, founded in 1810 by landowner Jeremiah Brennan for the education of the youth of wealthy Catholic families. There were extensive buildings and playgrounds, built at a cost of £3,000, with accommodation for over 100 boarding pupils and staff at a fee of 22 Guineas per annum. Day pupils were charged a Guinea a quarter plus the registration fee of a Guinea. This school was operational for a number of years, but ran into serious financial problems. It closed in 1816.
Late January is a melancholic time, but there was strange feeling of sadness that the landscape beyond the gate had once been occupied by buildings built with brave ambition and great hopes and that all that now remained of Jeremiah Brennan's aspirations was a stone plaque.
Brennan built his school two decades before Catholic emancipation, he built it against the background of the Napoleonic wars in Europe, he built it in the years following the rebellions of 1798 and 1803, he built it when wise counsel would probably have told him to keep his money in his pockets.
Perhaps there is a memorial somewhere to Jeremiah Brennan, there should be. A memorial to a man with courage to run against the mood of the times, a man with boldness and imagination when it would have been easier to sink down among the cynics and the begrudgers.
One thing is for certain, had Brennan's scheme been successful, the road would be a great deal better.