Sermon for Palm Sunday, 2015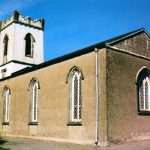 "Many people spread their cloaks on the road, and others spread leafy branches that they had cut in the fields." Mark 11:8
Four "Bs" can help us in our thoughts on this Palm Sunday, four Bs from the Gospel reading from Saint Mark Chapter 11; Saint Mark's description of the events in Jerusalem on that first Palm Sunday.
Chapter 11 Verse 1 tells us that they were approaching Jerusalem and reached "Bethphage and Bethany, near the Mount of Olives". Bethphage and Bethany are villages outside of the city. Coming on the road from Jericho, Jesus and his friends would have passed through Bethany before coming to Bethphage.
Our first "B" is "Bethphage". The name of the village means "House of unripe figs" or "House of early figs". It is an appropriate place for Jesus to pass through as he goes to Jerusalem to fulfil his mission, a place that reminds us that the full fruits of Jesus' ministry are yet to come, that what has happened so far has been a prelude to the great work he will achieve in Jerusalem.
Bethphage is a place name to challenge us about our own commitment to following Jesus. In Saint John Chapter 15 Verse 16, Jesus tells his disciples, "You did not choose me but I chose you. And I appointed you to go and bear fruit, fruit that will last." Saint Paul takes up that theme in the Letter to the Romans Chapter 7 Verse 5, "In the same way, my friends, you have died to the law through the body of Christ, so that you may belong to another, to him who has been raised from the dead in order that we may bear fruit for God." We are called to bear fruit, to show God's presence and God's work in our lives. Bethphage was the place of the unripe or the early figs; we are called to be unlike that placename, instead we are to be people who are like a fully ripened harvest.
The second "B" is "branches. The tradition of laying branches and fragrant herbs in the path of someone important went centuries. In the days of the Maccabees, in the second century before Jesus, we read of the people recovering the Temple. The First Book of Maccabees Chapter 13 Verse 51 tells us, "On the twenty-third day of the second month, in the one hundred and seventy-first year, the Jews entered it with praise and palm branches, and with harps and cymbals and stringed instruments, and with hymns and songs, because a great enemy had been crushed and removed from Israel." Palm branches are about celebrating a triumph, about celebrating the return of God to his Temple. Saint Mark Chapter 1 Verse 8 says, "Many people spread their cloaks on the road, and others spread leafy branches that they had cut in the fields."
When we think of the branches and the celebrations of those people, we should ask ourselves whether we celebrate. Do we ever feel so moved by our faith that we would wish to stand in the street and shout out loud what it is that we believe? If Bethphage asks us about the way we live out our faith, the branches ask us whether we are prepared to declare that faith.
The third "B" is "Blessed". We read in Saint Mark Chapter 1 Verse 10 that the crowd shouted, "Hosanna! Blessed is the one who comes in the name of the Lord! Blessed is the coming kingdom of our ancestor David! Hosanna in the highest heaven!" The Greek word translated as "blessed" is "eulogemene," as it sounds, it means "to speak well of. The crowd are happy to speak well of Jesus when it is a popular thing to do, to speak well of him when everyone else is cheering, but we know what happened five days later when instead of speaking well of Jesus, they shouted "crucify him".

What about ourselves, though? Do we speak well of Jesus when it suits us and turn our backs on him when standing up for our faith becomes something difficult? Can we always say "blessed" when we hear of Jesus, or are there too many times when we would prefer he was not present? How ready are we to welcome him at all times?
The third "B", asking about our willingness to speak words of welcome, takes us to the fourth "B" in the story, the village of Bethany. Saint Mark concludes his description of Palm Sunday in Chapter 1 Verse 11, "Then he entered Jerusalem and went into the temple; and when he had looked around at everything, as it was already late, he went out to Bethany with the twelve."
"Bethany" means "the house of the poor" or "the house of the sick", it was a placename that spoke of care of hospitality of welcome. Jesus went there because it was the home of Mary and Martha and their brother Lazarus whom Jesus had raised from the dead. It was a place with happy memories, a place where Jesus and his friends would be welcomed with open arms.
As we read the name "Bethany" today, how ready are we to be people who offer a welcome to everyone whom we might meet? How ready are we to be people who care for everyone? If Jesus came to our door, would he find a welcome, or would we be too busy, have too many other things to do, make excuses?
Four "Bs" for Palm Sunday: Bethphage, branches, blessed and Bethany, four Bs that ask us what sort of friends to Jesus we are.