Holy Week Sermons, 2015 (Good Friday): Five Objects – A Spear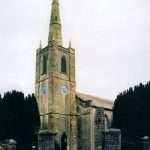 "one of the soldiers pierced his side with a spear, and at once blood and water came out." John 19:34
Our Holy Week addresses this year focus upon five objects from the events of the week; five objects which are significant details of the story; five objects that point beyond themselves, five objects that point to truths for us to see, five objects that ask questions of us.
A spear appears only once in the Gospel story, at the crucifixion of Jesus, when one of the Roman soldiers thrusts a spear into Jesus' side to ensure that he is dead, but if we turn to the pages of the Old Testament, we see spears appearing more frequently in the Scriptures, often in a very symbolic way.
There is a spear of violence. In the First Book of Samuel Chapter 17, we read the story of David and Goliath, in Verse 45, David calls to Goliath, "You come to me with sword and spear and javelin; but I come to you in the name of the Lord of hosts, the God of the armies of Israel, whom you have defied." The spear symbolizes the threat of the Philistine armies, their military strength, their physical power. The spear that Goliath carries symbolizes what awaits David and his people if they fail. Spears are made for violence and those who carry them expect to use violence.
David does not face his enemy with spear and javelin, but faces him in the name of the Lord of hosts.  The story of David facing Goliath is a story that warns against relying on physical might, it is a story about not relying on one's own strength.
Goliath's spear of violence is a reminder to us that the things in which we place our trust may be futile. Goliath had absolute confidence in his own strength, in his own capacity to win: in what ways do we make the mistake Goliath made? In what ways do we think that we have nothing to fear, do we think that we can do whatever we want?
In the story of David, a spear may be a symbol of violence, it may also be a symbol of obedience. In the First Book of Samuel, Saul the king decides that the young David is a threat to him, wishes him dead, and goes with an army in search of him. In Chapter 24, we read that David has an opportunity to kill Saul, but believes, whatever Saul's intentions might be, that it would not be right to kill Saul.
In Chapter 26 of the First Book of Samuel,  a second chance to kill Saul arises, Saul and his army are again searching for David and David is able to find his way into Saul's camp at night while Saul is sleeping. David and Abishai, who had gone with him, find the sleeping Saul and, in Verse 8, Abishai asks permission to kill Saul, "God has given your enemy into your hand today; now therefore let me pin him to the ground with one stroke of the spear; I will not strike him twice." The spear could have been the spear of violence, but instead is the spear of obedience, in Verse 11 David replies, "The Lord forbid that I should raise my hand against the Lord's anointed; but now take the spear that is at his head, and the water-jar, and let us go."
David takes the spear so that he can show Saul that he has had the opportunity to kill Saul and has chosen instead the way of obedience, recognizing Saul as the anointed king and refusing to strike him.
We are never likely to be confronted by the circumstances that David faced, but how ready are we to treat charitably those who threaten us, those who make our life difficult? Isn't the way of revenge always much easier? Do we ever do as David did and ask what God's way might be?
Violence and obedience, the spear may also be a symbol of peace, more precisely, the broken spear is a symbol of peace. Psalm 46 Verse 9, speaks of God bringing peace, it says, "He makes wars cease to the end of the earth; he breaks the bow, and shatters the spear; he burns the shields with fire." In the coming kingdom of the Lord, the spear will not just be broken, it will be turned into something useful. A spear that had brought only a harvest of death becomes a pruning hook that is used in growing a harvest of food for life. Isaiah Chapter 2 Verse 4 and Micah Chapter 4 Verse 3 say, "they shall beat their swords into ploughshares, and their spears into pruning-hooks; nation shall not lift up sword against nation,    neither shall they learn war any more."
The spear of peace, the spear that becomes a pruning hook, this is the Lord's way, this is what his Kingdom will look like. Yet despite those verses being read for century after century, despite history teaching us that violence brings only more violence, our world is led by politicians who believe war resolves issues. Sometimes when we turn on the television news and we see what is happening, we need to ask ourselves if this is the way that Jesus would do things.
A spear of violence, a spear of obedience, a spear of peace; on Good Friday we meet another spear. The soldiers carrying out the grisly task of crucifying Jesus and the two thieves are ordered to ensure that they are dead, they break the legs of the two thieves to hasten the process of asphyxiation, but when they come to Jesus, he is already dead, so, says Saint John Chapter 19 Verse 34, "one of the soldiers pierced his side with a spear, and at once blood and water came out." On Good Friday, a spear becomes a symbol of the violence that Jesus suffered; it becomes a symbol of Jesus' obedience, obedience even unto death on a cross; and it becomes a symbol of the way of peace that Jesus offered, the way of the cross.
In the centuries that followed, Christian writers would find much symbolism in the piercing of Jesus' side: Jesus would be remembered as the Passover lamb from whom flowed the blood that ensured life for those who received it; he would become the rock from whom came the living water that gave life to those who drank it. Jesus gives a new meaning to things, the cross, the instrument of death, becomes a way to life; a spear, a weapon of violence, becomes a pointer to all that Jesus means for us.
Sometimes, though, it is easy to become lost among the symbolism; sometimes it is easy to forget the reality of the objects. The spear was something very real, it was something with which to kill; among all our Scripture readings and all our hymns, we should not lose sight of that reality. The spear reminds us that Jesus was dead; dead so that he might destroy death; dead so that he might make a way for us; dead so that we might have life