A kind telling of history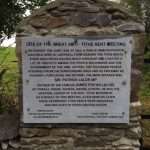 South of the Co Laois village of Ballinakill, just over the Co Kilkenny border, there is a memorial plaque on a pier of a roadside gateway. Easily missed when paying attention to the narrow road ahead, it is worth finding a safe place to stop so as to walk back and read the inscription.
Site of the great anti-tithe rent meeting
On Sunday, 10th June 1838 at 2 pm, a public demonstration
was held here at Ladywell Farm against the tithe rents.
These high rents caused much hardship and created a
lot of hostility among the people nationwide and the
government of the time. Approx. ten thousand people
attended from the surrounding area and as far away as
Kilkenny, Portlaoise and beyond. The main speaker was
Mr Patrick Lalor MP
(Father of the famous James Fintan Lalor)
of Tinakill House, Raheen, among others. He was the
national leader of the anti-tithe movement.
As a result of this meeting, a few months later,
these exorbitant tithe rents were abolished
and replaced by Poor Law evaluation.
The plaque was put up in 2013, the 175th anniversary of the success of the anti-tithe movement, which had begun seven years earlier and had gone through violent times. Ballyouskill History Committee are charitable in their telling of history, they might reasonably have included a note saying that the tithes were levied on the whole population and were paid to the Established Church, the Church of Ireland. Referring to the hostility, they might have made mention of the fact that both Catholics and Dissenters resented paying for the clergy and the buildings of a church to which they did not belong. The inscription focuses on the positive achievement, that a wholly unjust church tax was abolished, and refrains from attributing blame to those who for so long persisted in charging tithes.
The plaque provides a model for telling history in a way that allows everyone to accept it without anyone feeling a sense of guilt concerning the actions of two hundred years ago, actions which everyone living today would regard as indefensible. Ballyouskill History Committee tell history in a way that allows everyone to celebrate progress, they tell a history in a way that it belongs to everyone, that no-one is excluded.
The Committee should be asked to act as advisers to the government's National Commemorations Programme. The centenary of the events of 1916, the centenary of the formation of the first Dáil in 1918, the centenaries of the events of the War of Independence, these will be simple matters compared with the challenge that lies ahead in the commemoration of the Civil War in 2022. Much Ballyouskill wisdom will be required.