Summer sermon series, 2015 – What's it all about? 6. Who do we believe?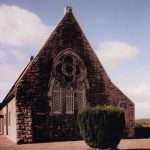 "Then we will no longer be infants, tossed back and forth by the waves, and blown here and there by every wind of teaching" Ephesians 4:14
When we asked the question, "what shapes our faith?" at the beginning of this series, we saw that our church would claim that our faith was shaped by Scripture, tradition and reason, but, if we were honest, we would have to admit that our own faith was probably more likely to be shaped by our families, by the society in which we live, and by our own superstitions. When it comes to this evening's question, "who do we believe?", our response as a church would be to say that we believe those who speak and act according to Scripture, tradition and reason, but as individuals, if we are honest, we probably believe what we are told without asking any such questions.
When we have to think about ethical questions, when we have to think about questions of what is right and what is wrong, I do not think there are many people who ask what the Bible might have to say, nor are there many who might ask what light the teaching of the church might shed on the subject, though must of us would, I hope try to reason things through for ourselves. But what shapes that reasoning, what influences the way we think about things? As Christians, it is important that we know why we think the way we do, and to understand how people might be influenced to think in ways very different from our ways of thought.
There seem to be three main sources of influence, three main ways in which people's thinking is shaped. There are the media, television, radio, newspapers, magazines, the Internet, through which even official information from the government reaches us, as well us the arguments of those on the differing sides of debates. Then there are the social networks, the online sources on which more and more people rely for news of what is happening in the world and for ideas about how they should think about subjects. Finally, there is word of mouth, conversations with other people, perhaps we are most influenced not by anything on the television or on a website, but by what a friend says to us.
Our first encounter with questions we have to answer will often come through the media, it is the media that inform us about issues of which we otherwise may never have heard, it is the news stories on television and radio and in the newspapers that make us think that we should have an opinion on the matters that are reported. When the questions arise, how do we react?
Saint Paul warns the people of his time to be wary of being carried along by the tides of opinion, opinion that did not reflect the teaching of Jesus. Writing in the Letter to the Ephesians Chapter 4 Verse 14, Paul exhorts his readers, "We must no longer be children, tossed to and fro and blown about by every wind of doctrine, by people's trickery, by their craftiness in deceitful scheming." Paul would  want us to examine the stories we are told, he would want us to check claims that are made against actual evidence.
One of the biggest stories at the moment is immigration, people behaving as if millions of people from here had not emigrated elsewhere and claiming that there are major problems. When we examine the facts, we find the numbers are small and we have to ask why people are making these claims, whose interests do they represent? There are many instances in modern history where the media have singled out minorities for accusation, thus deflecting attention from much bigger questions surrounding powerful and influential people. Saint Paul would be concerned that questions seek and declare the truth, in Ephesians Chapter 4 Verse 15, he says, "But speaking the truth in love, we must grow up in every way into him who is the head, into Christ." Christian maturity demands that we speak the truth and, in so doing, draw closer to Jesus.
The media play an important part in shaping what we believe, but the media are public, and if what they say is untrue, Christians can respond. It is much harder for Christians to respond to claims made in social networks, because these networks are often private, they often include only a small group of people, among whom there may be no-one to question claims and to look for the truth. Follow discussions on Facebook, on some of the Internet forums, on the comment columns on some websites, and there seem may people who are prepared to believe everything they are told. The writer G.K. Chesterton once said, "When men choose not to believe in God, they do not thereafter believe in nothing, they then become capable of believing in anything." One of the problems of the social networks is that people will drift toward those with whom they agree, so they become part of a circle where each person reinforces what the others are saying, to ask questions, to challenge people, is likely to be taken as a personal attack and is likely to lead to being excluded from the group.
How do Christians respond? Saint Paul writes, in the Letter to the Romans Chapter 12 Verse 2, "Do not be conformed to this world, but be transformed by the renewing of your minds, so that you may discern what is the will of God—what is good and acceptable and perfect." Perhaps our best response to things that trouble us, to the things that seem to conflict with Christian thinking, is to humbly and graciously ask if people think what they are saying could be seen as a Christian response. How often do we ever ask if people think that what they are suggesting fits in with God's way of seeing things? Saint Paul says we should look for what is "good, acceptable and perfect", if we are involved in social networks, perhaps that should be our motto, it should make us ask: is this good? Is it acceptable to God? Does it lead us toward perfection?
We may believe what we hear or read in the media, we may believe what we hear or read on social networks, but most people are most influenced by word of mouth, by conversations, by discussions, by listening. Our parents and our teachers are the people we believed when we were young and there is probably much that they said that has remained with us, we will remember things from childhood years when we cannot remember things from last week. Word of mouth can bring us wisdom and lessons for life, it can also bring us gossip, slander and mischief-making. We all know people who like nothing more than bad news and scandal that they can pass on to others. Word of mouth may be more destructive than anything that comes through the media or through any network because we are likely to believe it because it has been told to us personally.
Our response as Christians to what we hear by word of mouth should be the response we make to what we hear by any source, we should always ask if it is true, and even if it is, we should ask if it is necessary that it be told. In the Letter to the Philippians Chapter 4 Verse 8, Saint Paul sets down how we should respond to what we hear by word of mouth, "Finally, beloved, whatever is true, whatever is honourable, whatever is just, whatever is pure, whatever is pleasing, whatever is commendable, if there is any excellence and if there is anything worthy of praise, think about these things." Wouldn't the world be very different if we lived by Paul's words.
The media, the social networks, word of mouth, whatever way we hear things, we should never believe unless we know things to be true. In Saint John Chapter 16 Verse 13, Jesus says, "When the Spirit of truth comes, he will guide you into all the truth." May the Holy Spirit guide our listening and our thinking and our words.