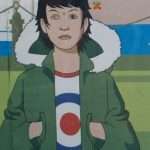 KCLR, I'm never quite sure what it stands for. Kilkenny Carlow Local Radio, who would call it that? KCLR sounds like one of those American radio stations where even hazarding a guess at the meaning of the letters would be difficult. KCLR sounds more authoritative, it gives a feeling that it is something "out there", a feeling that this could be a station at ease wherever it may be. Perhaps the impression arises from listening only on a Sunday lunchtime when the music stretches back to the Sixties and Seventies and when the bands played might have filled the airwaves of any station in these islands or in North America.
The Stylistics were on the playlist today. Forty years ago, admitting a familiarity with the work of The Stylistics would have courted ridicule among most of my male friends in teenage days.  To have revealed a capacity for reciting whole chunks of some of their songs would have destroyed the last shred of any credibility I might have possessed. But, no matter about ridicule, there was something about their music that seemed to create an atmosphere. Maybe it was something to do with the soul music that surrounded teenage years, maybe it was to do with teenage romance; maybe it was simply because it had a distinctive sound.
One track, only heard for the first time years later, seems always more distinctive than the others, "Betcha, by golly, wow"; it has something indefinable about it, something that slips beyond the consciousness before even it has taken shape. "Betcha, by golly, wow" was the track played at lunchtime.  Had there been the opportunity, there would have been the temptation to have texted the station and asked the presenter what it was about the song that could find its way into the consciousness to the extent that it is instantly recognizable from its opening bars.
Perhaps there is something in the music itself that gives it an evocative power, perhaps it is the distinctive voice of The Stylistics vocalists, perhaps it is simply a process of association that endows the song with an enduring quality. Maybe that's it, maybe it's not the song, but the time from which the song comes that matters, but that cannot be a full explanation.  Certainly there are songs that go with certain times, songs associated with certain memories, songs that will conjure certain moments, but there are other songs, recorded by bands during my childhood days, and not heard until years later, that have a similar enduring power. "Betcha, by golly, wow", recorded in 1972, is one of those songs; its power is a mystery.