Indifference to Jungleland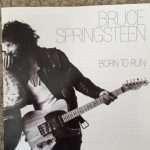 It was forty years ago today that Bruce Springsteen released the album "Born to Run".  Having played it many times in the intervening decades, the thought occurred to me one day that Bruce Springsteen probably knew more about the pastoral care of ordinary people than any priest, minister or pastor I have met. He understood working class life, the grind of a blue collar existence; he sang about the stuff that people feel, the crap stuff as well as the good stuff.
When did you last hear a preacher talking about how it felt when life was rubbish? How would the preacher know? How would someone who has had a college education, and a secure job and a middle class lifestyle understand the overwhelming sense of ennui and alienation that is sometimes part of everyday reality for working class people? Listen to Springsteen's lyrics and there is a profound sense of humanity, a sense of understanding the ordinariness and the powerlessness.
In "Jungleland", the closing track of "Born to Run", there is a description of the indifference felt toward the death of a working class twenty-something, killed in a gang fight, no-one cares:
"No one watches when the ambulance pulls away
Or as the girl shuts out the bedroom light".
Is there also an expression of sheer frustration at those who might say something but do nothing? Is there an anger at those who could articulate the feelings of the alienated, those who could try to connect the powerless with the powerful, those whose words might have the potential to change the reality of people whose lives are otherwise trapped in violent desperation, but retain a detached indifference? In the closing lines of the song, Springsteen sings:
"And the poets down here don't write nothing at all
they just stand back and let it all be
and in the quick of a knife, they reach for their moment
and try to make an honest stand
but they wind up wounded, not even dead
tonight in Jungleland."
Indifference followed by a half-hearted response, which does come at a cost, but not the cost experienced by many of the young men, and it is nearly always the young men, who are trapped in the "death waltz between what's flesh and what's fantasy." Reality and hope are so different that there seems an inevitable outcome for those out on the street.
Once, there was the temptation to send my worn copy of "Born to Run" to those responsible for training people for ordination and to suggest it might have insights to offer, that there were songs that connected with working class people in a way that the church fails to do. Of course, the suggestion would have been met with laughter, among the poets who write nothing at all, among the indifferent and the lukewarm, can be numbered the clergy.