Sermon for Sunday, 13th September 2015 (Trinity 15/Pentecost 16)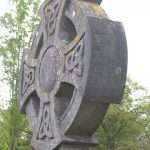 "You are the Messiah" Mark 8:29
The five "W's", where, who, why, what and when, help us think about today's Gospel reading and ask questions of us about our own faith in Jesus.
"Where" is straightforward, Verse 27 tells us, "Jesus went on with his disciples to the villages of Caesarea Philippi." The place name had a meaning for the disciples that we can easily miss. At one time it had been called "Paneas", named after the pagan god "Pan", but had been renamed Caesarea in honour of the Roman emperor, who was regarded as a god by Roman people, Philippi being added by Philip, son of Herod the Great, who was Jewish ruler of the region. The place where Jesus and his disciples had arrived was a place whose name asked about who was regarded as divine.
The "where" of the reading asks us questions about our attitudes to the things worshipped by people in our own times. Caesarea Philippi had derived its original name from paganism and had been renamed in honour personality cults; times have not changed so much, our own time has no shortage of either old paganism reappearing in the guise of "new age" spirituality, or personality cults manifest in our celebrity culture and in the tendency, even within church circles, to elevate leaders to a stature not warranted by the Bible. "Where?" asks us about the religions of our time. Where do we stand with our faith?
"Who?" is a question Jesus himself twice asks the disciples, "Who do people say that I am?" The disciples answer him, in Verse 28, "John the Baptist; and others, Elijah; and still others, one of the prophets." Then in Verse 29 Jesus turns the question to the disciples themselves, "But who do you say that I am?" Peter gives a direct response, "You are the Messiah." The disciples have travelled far and seen much with Jesus and have had much time to think about the "who?" question.
Like the disciples, "who?" is a question we must answer for ourselves, who do we say that Jesus is? We might declare a belief in him as Messiah when we gather for worship, but who do we say that Jesus is in our daily lives? Do our actions match our words? Do we take seriously what we say on a Sunday? Do we take it seriously enough for our decisions at home, at our work, in our leisure time,  to be shaped by our faith in Jesus? Who do we say that he is?
Why does Jesus want the disciples to be clear about their decision? Because faith in him as the Messiah was going to bring  challenge and danger. Verse 31 tells us, "Then he began to teach them that the Son of Man must undergo great suffering, and be rejected by the elders, the chief priests, and the scribes, and be killed, and after three days rise again." Peter should have understood why Jesus was giving them this warning, he should have realized that Jesus could not have made the claims he was making without arousing opposition, but Peter does not want to see why, in Verse 32 we read, "And Peter took him aside and began to rebuke him." Even more forcibly, Jesus makes it clear why people should be clear in their decision, declaring in Verses 34-35, "If any want to become my followers, let them deny themselves and take up their cross and follow me. For those who want to save their life will lose it, and those who lose their life for my sake, and for the sake of the gospel, will save it."
Why did the disciples have to decide? Because following Jesus was the way to life. Why must we decide? Because the same choice is set before us. We might be like Peter, trying to deflect the question, but Jesus is uncompromising in the question that he asks us. Will you follow me?
The question "what?" is asked twice by Jesus, in Verses 36-37, "For what will it profit them to gain the whole world and forfeit their life? Indeed, what can they give in return for their life?"  The disciples would known the answer to the question, there is no profit in having everything and losing one's very self, there is nothing one can give in exchange for oneself, but they needed to be sure about those answers because they would one day have to answer the questions in a way that would demand their lives.
Looking at our own lives, we might hear Jesus' warning to the disciples. What is the point of spending our lives earning as much as we can, having as much money as we can, buying all we can, if in doing so we lose our soul? What is there we can give in return for our soul, no work, no wealth, no possession, is going to buy it back. What do we live for?
"When?"is the final question. "When" is an assurance to the disciples that their faith in Jesus is leading somewhere, and that those who reject him will experience a day of reckoning. In Verse 38, Jesus says, "Those who are ashamed of me and of my words in this adulterous and sinful generation, of them the Son of Man will also be ashamed when he comes in the glory of his Father with the holy angels." The word "when" is a declaration that there will be a moment when all that Jesus has said and done will become meaningful.
Living in times when many people regard life has having no meaning, when people believe that the present life in the present world are all there is, that word "when" is important to us. It says to us that this time matters, that this life matters, that we matter, and that no matter how things may seem, we are on a journey that is leading us to a destination. "When" is a statement of confidence that God is in charge of that journey. Have we confidence that there will be a moment when all will become clear.
Where, who, why, what and when: five W's to help us think about that moment at Caesarea Philippi, five W's to help us think about our faith now.