The fallacy of Miss Marple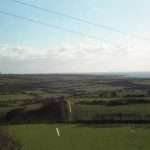 Miss Marple was on the television this evening. She reminded me of conversations a long time ago in a diocese far away, where a colleague would insist that his years spent in an idyllic seaside village equipped him for ministry anywhere. The authority upon which he drew for making such an assertion was not any work of theology, or sociology or psychology, but the work of Agatha Christie. He took seriously the idea that Miss Marple, Christie's fictional amateur sleuth, could learn all that was needed to be known about the world from living in a small village in rural England.
Jane Marple's contention that, "we're all very ordinary in St Mary Mead, but ordinary people can sometimes do the most astonishing things," is not one with which anyone would argue. History provides an extensive catalogue of extraordinary action by ordinary people. Nor would one argue with her assessment that, "There is a great deal of wickedness in village life." Anyone who has lived in rural communities will know how pernicious disputes and grudges can become.  It is when Miss Marple declares that, "the only thing I ever said was that human nature is much the same in a village as anywhere else, only one has opportunities and leisure for seeing it at closer quarters," that there is a need to demur.
Miss Marple is an entertaining character, her mysteries make for a pleasant evening's viewing, (especially as the villains always get their comeuppance), but the genteel world she inhabits is hardly a microcosm of the world. The basic instincts of human nature may be similar whether one is in a small English village or in a distant very different society, but how those instincts are manifest will vary hugely from one milieu to another.
Miss Marple asserts that observation of human nature in a village allows one to draw conclusions about human nature elsewhere. It is an assertion that rests upon the assumption that there are normative patterns of behaviour, that regardless of culture, observable behaviour in response to specific situations will be similar in every context. One does not need to travel far to know that this is not the case, that even within rural communities there will be differences, and between villages and cities there will be substantial differences.
Oddly, the one organisation that has worked on the Miss Marple principle, that human nature is much the same everywhere, is the church itself. It still operates on the assumption that what works in one place will work in another, that people are the same everywhere, that you can look at people in one place and make assumptions about people in another. If it is not true for Miss Marple, then how can it be true for the church?