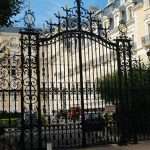 Biarritz on two nights in January. Well, not really, though it would be a very inviting escape from the greyness of an Irish midland winter. Last night, there was coverage of the derby match between the rugby clubs of Biarritz and the neighbouring city of Bayonne; tonight the television drama Mr Selfridge opened with shots of the unmistakable seafront, reviving reflections of times when Biarritz was one of the most fashionable places in Europe.
Biarritz has seemed always one of those places that was more about a state of mind than about a geographical location. It certainly possessed an ambiance thoroughly other than anything with which we were familiar when we visited for the first time in 1988. Short of crossing the Iron Curtain, which still remained firmly intact that year. there could hardly have been a greater contrast than that between Belfast, to which we lived ten miles east, and the French Basque resort of Biarritz.
Leaving Northern Ireland in mid-July, a province in the midst of the marching season; a place where sectarian communities marked out their respective territories with flags, bunting and graffiti; an environment where shootings and bombs were an inescapable part of ordinary reality; there can have been few other places so different.
Crossing from Dublin to Holyhead, the unwise decision had been taken to sail from Plymouth to Santander in northern Spain.  The crossing was twenty-four hours, or twenty-one hours, or eighteen hours, whatever it was, it was far too long. Three hours out of Plymouth, an announcement came that the outside decks were being closed because of the severe weather conditions. It was the moment when there had been an earnest wish to be anywhere other than on a ship heading into the waters of the Bay of Biscay. Had the return crossing not been booked, there would have been no possibility that we would have gone home via the Spanish port.
Spain had been a member of the European Union for less than two years and Northern Spain still suffered from chronic economic underdevelopment, living conditions for many people were still poor and there was not sufficient money in circulation for the shops to stock a wide range of goods. In 1988, the beauty of the streets of San Sebastian, wonderfully revived in the past two decades, was a fading reminder of its past. In the Basque country, separatist graffiti and bill posters still scarred the walls of many of the towns. Driving northward France was like crossing into a different world.
Biarritz threw the contrast  into sharpest relief. There was elegance and sophistication and the suaveness the French manage so effortlessly. There was a sense that at any moment someone famous or fabulously rich might appear. We had little money, but to buy an ice cream and walk the promenade was sufficient. Memories abide and a return at any opportunity would be a delight.