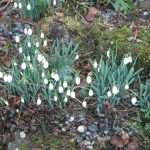 Spring begins tomorrow, allegedly.
Subject to scrutiny the notion that Saint Brigid's Day, 1st February, was celebrated as the first day of spring in ancient Ireland and it quickly becomes apparent that the tradition lacks much by way of historical foundation. There was no shared pantheon, no common calendar, no evidence of universal religious beliefs. Tales of druids and the like owe more to fanciful Nineteenth Century writers than to any documentary or archaeological sources. 1st February does mark the end of a quarter beginning at the 1st November, the three months of the year with the least daylight, but our calendar was not used in early Ireland; it is silliness to retroject modern ways of counting time into times when such a system of measurement simply did not exist.
Met Eireann, the Irish weather service discarded the idea that spring began on 1st February, counting the seasons in terms of calendar months, they define the winter as the coldest three months of the year, December, January and February, so spring for them begins on 1st March.
Anyone living in Ireland will know that it is folly to assign any fixed date to the beginning of spring, there might be mild days in February, and snow in May. Maybe the beginning of spring is not so much a date as a state of mind.
Spring begins when there is the scent in the air of newly-mown grass. Spring begins when daffodils bloom along the roadside. Spring begins when it is still light at teatime. Spring begins when there is a sense that maybe it is warm enough to leave the overcoat at home. Spring begins when there are children's voices in the air and the sounds of hurleys against sliotars.  Spring begins when curtains are no longer closed against winter evenings, when people linger outside to talk to neighbours, when garden furniture comes out of winter storage, when evening strolls are the activity of more than a hardy few. Spring begins when we intuitively know it is spring.
Perhaps there is something much deeper than just calendars and meteorology, though, perhaps spring is something existential. Spring touches something deep within us; perhaps in our sub-conscious, perhaps even consciously, it is an affirmation that we are survivors, perhaps there is a deep unspoken realization that the winter season that claimed our ancient ancestors has again been defeated.  It's not when spring begins that matter, it's what it means.