Plus ça change, plus c'est la même chose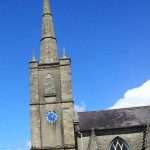 At the monthly meeting of the local historical society, newspaper articles making mention of the former market house were circulated. The market house was not only the commercial centre of the town, it was also used for sittings of the magistrates' court. Judging by a report carried in the Freeman's Journal in 1838, there were reasonable grounds to question the independence of the magistrates, and to feel that being a clergyman in those times might have been a very lonely role.
The article was my first encounter with the Reverend Mr Scott, his outspokenness in the face of an entrenched obduracy suggest he was a man whose story might be eventful.
From the Freeman's Journal Monday, 30th July 1838:
ORANGE RELIGION IN MOUNTRATH

Mountrath, July 24, 1838

On the night of the 11th instant, the Orangemen of this town assembled, to the number of 30 or 35. The mail coach happening to pass before they separated, these enemies of law, order, and decency thought fit to fire shots, which had the effect of frightening the horses, to the serious annoyance and danger of the guard and driver. The guard in consequence had two of the ringleaders arrested, and summoned to the court of petty sessions, held in the market house. The magistrates in attendance were Captain Brereton and Captain Sandes. The guard, whose name is M'Kenna gave his evidence, but the magistrates were pleased to consider it insufficient, and dismiss the case, as he found no arms on the defendants. One of those persons apprehended was servant to the Rev. Mr. Scott, of this parish, who dismissed him on account of his conduct. The Rev. gentleman had farther the Christian feeling to remonstrate with his congregation on Sunday on the evil effects of violating the law in such a manner. The consequence was, that twenty-three Orangemen left the church, exclaiming that the next thing the minister would do would be to turn Papist. Leinster Independent
A hundred and fifty years later, in the late 1980s, I served as curate in Newtowmnards in Co Down where the local Free Presbyterian minister would take out advertisements in the local newspaper denouncing the Church of Ireland as "apostate" and my Rector, a good and kindly man, as a "traitor." Reading the Freeman's Journal this evening, there was a reassurance in finding that speaking for Christian attitudes and for justice had long been a cause for being denounced. The Reverend Mr Scott would find places in Ireland where little had changed.