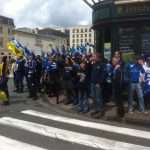 Watching Leinster play at Tallaght Stadium was a new experience. Of course, rugby is played on the west side of Dublin, but it's not often that a team customarily found in Dublin 4 appears at a ground which is home to Shamrock Rovers soccer team. The Leinster Rugby website reported that there were 1,866 people in the crowd. Perhaps it was easier to drive in from Co Laois than to travel from south Co Dublin. It was a pre-season friendly against the English side Gloucester and far from the most unlikely match that I had attended.
In schooldays, we were allowed to go Torquay on a Saturday afternoon. The bus would collect us at five o'clock at the south end of the seafront and there would have been afternoons when there was not much of interest in the town and I would have wandered to the ground of Torquay Athletic, the town's rugby club, close to the pick-up point, the most scenic sportsground I knew, and free admission. There was once a match against Penzance & Newlyn and, it being the 1970s, I think I might have seen the England international Stack Stevens play, but, close on forty years later, it is hard to be certain.
Rugby became a television spectacle for me in the 1980s and 1990s, watching the Five Nations each spring, but never going near the ground. Moving to Dublin in 1999 brought the odd ticket to watch Ireland at Lansdowne Road and the growth of the habit of going to Donnybrook or the RDS to watch Leinster – but those weren't obscure matches.
The favourite obscure moments, those moments that required an anorak-like devotion to being present, were occasions that demanded extreme patience on the part of the family.
There were the friendly matches. An August evening match between Agen and Bordeaux Bègles at Sainte-Foy-la-Grande: heard of them? I thought not. What about Bordeaux Bègles against Northampton Saints? The latter would be well-known.
Then there were French Top 14 matches; fixtures like Bayonne against Montauban, or Biarritz against Bourgoin-Jallieu. My children at some future date will recount tales of extreme eccentricity.
It wasn't about who was playing; it wasn't even about the result (though driving from a French campsite down into Spain and seeing Bayonne beat Stade Francais was a very fine night out); it was about the game; about chess-like movements, about speed and agility, about physical strength and sheer brute force.
The obscurity or prominence were not important – it was the game that mattered. With the passing years and the cult of celebrity in some sports, it is the game itself that matters more than ever.