Sermon for Sunday, 4th September 2016 (Fifteenth Sunday after Trinity/Ordinary 23)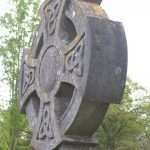 "Whoever does not carry the cross and follow me cannot be my disciple" Luke 14:27
If we wanted a word from the Gospel reading that we might use as an acronym, the word "cost" from Saint Luke Chapter 14 Verse 28 gives us letters to think about four words from the passage: cost, otherwise, sit and terms,
Jesus urges the crowds to think seriously about the cost of following him. Verse 25 has told us, "Now large crowds were travelling with him." They were travelling with him, but Jesus is aware they are doing so for many different motives; some may have desired to know more about God, some may have been curious, some may have thought there could have been personal gain, some may have been looking for evidence to use against Jesus. Jesus speaks in the sternest terms about what it means to follow him rather than merely to travel with him. In Verse 26, he turns to the crowd and says to them, "Whoever comes to me and does not hate father and mother, wife and children, brothers and sisters, yes, and even life itself, cannot be my disciple." Jesus' words reflect a Jewish tradition of speaking in the most extreme terms in order to make a point, "Whoever does not carry the cross and follow me cannot be my disciple," he says in Verse 27. Have the people listening to him given thought to the cost? Jesus asks them to think in practical terms in Verse 28, "For which of you, intending to build a tower, does not first sit down and estimate the cost, to see whether he has enough to complete it?"
If Jesus asked his followers about their understanding of what it meant to follow him, he would ask a similar question of us: have we thought about the cost of what it means to be a real follower of Jesus?
"Otherwise" is a word of warning to the crowds. In Verse 29, Jesus says, "Otherwise, when he has laid a foundation and is not able to finish, all who see it will begin to ridicule him." How many of those who followed Jesus found that they had set out on their journey without thinking about what it meant and then found themselves turning away? How many of them had thought about what "otherwise" might mean?  In the parable, the person building without thinking is mocked, Verse 30 says, "This fellow began to build and was not able to finish."
"Otherwise" stands as a warning to us. The builder of the tower has to think, otherwise he will be left looking foolish. Have we been left looking foolish because we have not thought about what our faith asks of us?
Jesus is anxious that his followers do not act hastily, he urges them to sit down and think about it. In Verse 31 he says, "Or what king, going out to wage war against another king, will not sit down first and consider whether he is able with ten thousand to oppose the one who comes against him with twenty thousand?" The king sits down because the decision he is about to take is one of grave importance. To take the wrong decision will be profoundly costly. Jesus wants his followers to realise that their decision is a crucial one.
If our own decision to follow Jesus is to be one taken with a thought to the cost, and a thought that we should not be left looking foolish, it must be one taken after we have sat down and thought carefully about the importance of our decision. Do we give as much thought to deciding about our Christian faith as we do to all the other important decisions in our lives?
Cost, otherwise and sit, our fourth word is "terms." In Verse 32, Jesus speaks about the king who sits down and considers the implications of battle, "If he cannot, then, while the other is still far away, he sends a delegation and asks for the terms of peace." The king is not ashamed to think about on what terms the future will be lived, he realises the wrong decision will have major implications. Jesus wants his followers to think about the terms of their own faith, what will be the implications of their decision to follow Jesus? What will be the implications if they turn away?
What are the terms of our faith? In Verse 33, Jesus speaks in blunt words, "So therefore, none of you can become my disciple if you do not give up all your possessions." Jesus is asking us that he should be our first priority, that he should come before anything else, that he should be always our first thought. The terms he sets out could not be plainer.
Cost, otherwise, sit and terms: four words asking us if we are prepared to be disciples.