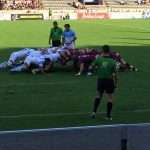 A man walking through the Musee des Beaux Arts in Bordeaux, with a female companion, was wearing a Leinster rugby jersey. "Are you going to see Madigan?" I asked.
"We are," he said. "We're staying here for the weekend and then going to the coast."
"Have you your tickets already bought?"
"We have," replied the woman, "but I think you should be able to buy them at the ground."
I agreed with her. "There'll hardly be more than twenty thousand there, and the capacity is thirty-four thousand."
Midway through the second half, the big screens in the ground announced, "vous etes 25,410." Over twenty-five thousand for a match between two clubs not known for their success, Union Bordeaux-Begles against Aviron Bayonnais. The sheer success of the Bordeaux team in building a massive following over the past five years only becomes clear when one realises that a couple of seasons ago they were playing most of their home matches in a ground that only held 8,000. It was only in 2011 that they started playing matches at the 34,000 capacity Stade Chaban-Delmas, then home to the city's soccer club. It was only last season that the soccer club moved to a brand new stadium and UBB had the place to themselves.
Twenty-five thousand is now the average crowd for a Bordeaux-Begles home match, they are the best supported rugby club in Europe. One could probably become very rich if one could discern the exact recipe for success their success and replicate it elsewhere. They haven't won anything in recent years, they haven't even come near winning anything.
Their first two tries this evening were excellent pieces of play, their third and fourth came late in the match against a tired opposition still readjusting to top flight rugby after being promoted last season. An attacking bonus point, secured when a team has scored three more tries than the opposition, was won and almost immediately lost as Bayonne powered through for their second try. The crowd was subdued at the end – despite winning 40-20, there was a sense of an opportunity missed, and the opportunities will be few enough when matches come against the successful clubs.
If it is not success on the field that brings in the twenty-five thousand for each home match, then what is it? There is a great sense of community, camaraderie, a great sense that the evening is about fun. The club even has pom-pom shaking cheerleaders – something you will not see on a January night in Dublin. Whatever it is that brings them, may their team prosper in the seasons to come.