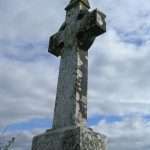 The beautiful North Wales coast and the haven of Noddfa on the edge of Penmaenmawr. A sister of the Sacred Heart of Mary order poured the tea. Memories of Sacred Heart sisters returned, Sisters of the Sacred Heart of Jesus and Mary – a long time ago in a place far away.
Having dropped out of university, I had found voluntary work as an assistant houseparent at a boarding school for boys with intellectual disability.
Arriving at the school after the drive from Guildford, I was shown into the entrance hall of the great 19th century mock Tudor building that housed the school accommodation. The superior showed me upstairs to the wing in which I would work; a group of a dozen boys were in the care of a sister and a domestic assistant.
Sister Brigid was one of the most saintly people I had ever met; her life was devoted to the care of the boys and, when not caring for them, to spending hours in the school chapel in prayer. There was never a moment of temper, rarely even a sign of tiredness. A member of her family posted to her each week the Kilkenny People, the newspaper of her home city.
The months were happy ones. The conversations many and varied. Sister Thomas Aquinas lived up to her name. Sister Maureen was a Liverpudlian with a liking for The Beatles; Sister Eileen a Glaswegian. Sister Maria Christina presided over academic matters; Sister Wilfrid ran the house. Working with Irish sisters and reading the newspaper prompted a visit to Ireland the following year; a visit that was to cause an entirely unexpected future to unfold.
Returning to university in the spring of 1981, the months in Cranleigh remain firmly in the memory. The sisters were to give up running the school at the end of the summer term, each of them being dispersed to work elsewhere.
Sister Brigid came back to Ireland to work at a special school in Roscrea in Co Tipperary. We kept in regular touch and in 1984 I went to visit Roscrea. As the years passed, the contact declined to Christmas cards and then faded altogether. However, the happy days at Saint Joseph's remained clear in the mind.
One afternoon in 2010, visiting in the parish in an area where the counties of Laois, Tipperary and Offaly meet, a lady told me she worked at Saint Anne's in Roscrea.
"When did you start there?"
"1983 – 27 years ago".
"Did you know a Sister Brigid?"
"Of course. I still know Sister Brigid. How would you know Sister Brigid?"
"Sister Brigid is probably the reason I'm here today, I'll explain . . ."
In an unlikely corner of Ireland there was an unlikely closing of an unlikely circle. A while later, passing Saint Anne's one day, I swung into the driveway and called at sisters' house. Sister Brigid was there, not a day older in thirty years. Sisters have the gift of eternal youthfulness.