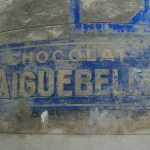 When the television news brings only reports of wars and conflicts, and clashes and confrontations, there is reassurance in a story of peace and beauty. The BBC's Hugh Schofield writes of the painted wall advertisements that were once so much part of  street scenery in France.
People go round collecting photos of these peintures publicitaires and posting them online, and I don't blame them – because they are at the same time things of beauty and symbols of a lost, more prosperous, simpler, time.
It is some thirty years since I first visited France, and even then the advertisements spoke of a France of the past, but their lack of contemporary relevance took nothing from their power. If for Hugh Schofield the peintures spoke of a lost, more prosperous simpler time, for me they spoke of the France encountered in the pages of novels and on the screen of a black and white television.
The advertisements would most often be found deep in the Midi, away from the cities with their modern suburbs, away from the coasts with their strings of resorts. They were the stuff of picture book France, the stuff of scenes unchanged in decades. The peintures would once have been found throughout France, but only static country towns did they have a chance to endure.
So it is that they go with memories of mellow stone buildings and bastide-enclosed squares. They go with cornfields and sunflowers and vine covered hillsides. They go with Renault 4s and 2CVs and Citroen vans from a former age. They go with boulangeries and patisseries and charcuteries and boucheries. They go with men whose faces tell of history sitting at cafe tables in the evening sun. They go with glasses of pastis and tiny cups of coffee and bottles of exotically coloured liqueur. They go with the taste of soft cheese and the scent of lavender and the touch of a kiss on the cheeks and the sound of pétanque and the sight of youths playing pool at a bar table.
The peintures spoke of things we were not, they spoke of Frenchness and all that went with it, they spoke of a sophistication absent from rural England, they spoke of elegance and style and flamboyance. Perhaps the content of conversations in small town France was little different from the content of conversations in small town England, but it was pursued with verve and gesture and expression.
The advertisements now are a reminder of a lost world, a world that had a je ne sais quoi that we never discovered.