Sermon for Sunday, 12th February 2017 (Epiphany 6/Ordinary 6)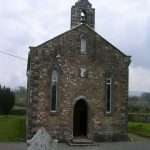 "Let your word be 'Yes, Yes' or 'No, No'; anything more than this comes from the evil one." Matthew 5:37
Two pairs of words can help us think about Jesus' teaching in the Gospel reading: outward and inward, and coming and going.
Jesus teaches that the people had been concerned with outward things; they had been concerned with how people behaved on the outside.
The Jewish people grew up hearing readings from the books of the Law. The Law had been given by God to Moses and the Law governed every part of their lives. The Law was seen by the people as a great gift to them. God's revelation of himself in the first five books of the Bible, the books of the Law made them a people set apart, a chosen people. The Law was to be taken very seriously, it was to be meditated upon day and night. Jesus talks about the Law, about how it governed people's outward behaviour, in Saint Matthew Chapter 5 Verse 21, he says, "You have heard that it was said to those of ancient times, 'You shall not murder'; and 'whoever murders shall be liable to judgement.'" Murder and judgement are outward things. Taking oaths was another outward action, people believed they declared the rightness of their cause by the oath that they swore. This has been their tradition, and Jesus tells them, in Verses 35-36, that it is a tradition that has to stop, "I say to you, Do not swear at all, either by heaven, for it is the throne of God, or by the earth, for it is his footstool, or by Jerusalem, for it is the city of the great King. And do not swear by your head, for you cannot make one hair white or black."
Are we like the crowds whom Jesus was teaching? Are we people who are concerned with the outward laws and regulations? Are we like them in trying to make sure that we do not break any rules? Do we think as they did, that if we try to live by the Law, then that will be sufficient?
Jesus tells the crowds that it is not enough to keep all the outward rules, that they must be concerned about their inward selves, In Verse 22, he gives them a very stern warning, "But I say to you that if you are angry with a brother or sister, you will be liable to judgement; and if you insult a brother or sister, you will be liable to the council; and if you say, 'You fool', you will be liable to the hell of fire." The people had been used to a Law which allowed them a place for anger, which taught them about recompense. They read Scriptures that told stories of vengeance, but Jesus will not allow them to continue to think in such a way, inwardly they must become different people. They must become people of integrity, Jesus tells them, in Verse 37, "Let your word be 'Yes, Yes' or 'No, No'; anything more than this comes from the evil one.
Are we people who are changed on the inside as well as on the outside? Do we get angry with people? Do we insult people? Do we call them "fools"? All of us do these things at times, all of us get cross, all of us have resentments? Jesus says that we have to let go of things, because, if we don't, we are in danger of judgement. We must become people of integrity.
Outward and inward, our faith has to change us in both ways.
The other pair of words is coming and going.
People coming to worship should be coming with a right heart and a right mind. Jesus tells the crowd something that would not have made them happy, in Verses 23-34, he says, "So when you are offering your gift at the altar, if you remember that your brother or sister has something against you, leave your gift there before the altar and go; first be reconciled to your brother or sister, and then come and offer your gift." If they were honest, who among them would not have admitted that there were people with something against them. They must have felt that Jesus' teaching was very hard, who was there who could have lived up to what he expected?
When we come to church, do we ever think about Jesus' words? Do we ever think about unresolved differences? Do we ever think about grudges that people have against us? Do we ever think about saying "sorry," simply so that divisions might be healed? Do we ever think that even though we were not in the wrong, apologising might start us on the way to being reconciled? It's not an easy teaching.
Coming to worship, the crowd are to be changed people, and going from worship, they are to be changed. Jesus urges them to apply their faith to their dealings with worldly matters. In Verses 25, he says, "Come to terms quickly with your accuser while you are on the way to court with him, or your accuser may hand you over to the judge, and the judge to the guard, and you will be thrown into prison." Being reconciled on their way to worship, they are also to be reconciled on their way to their business. There were perhaps people in the crowd who would have been very unhappy at what Jesus was telling them, people who would have preferred to keep their faith separate from their financial affairs.
When we go from worship, do we go as changed people? Do we face the week ahead with the determination that what we have said on Sunday is going to make us different people for the coming six days?
Outward and inward, we are to be changed. Coming and going, we are to be changed.