Sermon for Sunday, 23rd April 2017 (Second Sunday of Easter)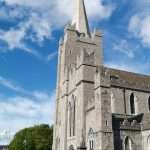 "I will not believe" John 20:25
Thomas, doubting Thomas as he was called for generations. But why define the man by one moment in the story? Thomas is complex, he is full of contradictions and complexity. He is a fascinating personality.
In Saint John Chapter 11 Verse 16, we meet Thomas the radical. Jesus declares he is returning to Judea and the disciples are concerned for Jesus' safety. "Rabbi, the Jews there tried to stone you." Thomas speaks with bravado,  "Let us also go, that we may die with him." This is the language of the manifesto, it is the language of the revolutionary, it is the language of the Soldiers' Song or La Marseillaise. Did Thomas mean what he was saying? Do radicals always believe their own rhetoric? Did those who signed the declaration of an Irish Republic in Easter Week 1916 do so expecting that it would mean certain death? When Thomas declares that they should go with Jesus to die with him, should we not take his words with the seriousness that we would take the words of any other radical? Radicals are important, they are visionaries, they are dreamers. Radicals can make us ask ourselves what it is that we believe.
Thomas can be a radical, he can also be a pragmatist. In Saint John Chapter 14, Jesus speaks the famous words about his Father's house and going to prepare a place for them. Jesus has spoken in a poetic way and Thomas comes in with a very hard-headed question. He has taken Jesus literally and he asks, "Lord, we do not know where you are going. How can we know the way?" Would it be too hard to imagine that there was a groan among the other disciples, the flowing words of Jesus being interrupted by a blunt question. Thomas is only being practical, though, how will other people understand what it is that Jesus is saying if he himself doesn't understand. Pragmatists are useful people, they bring us down to earth, make us evaluate our ideals.
Perhaps, as well as being a radical and a pragmatist, Thomas was also a depressive. Verse 24 says, "But Thomas (who was called the Twin*), one of the twelve, was not with them when Jesus came." The rest of the disciples stay together for solidarity, for mutual support, but Thomas' reaction to grief is to isolate himself, stay away from the people who had been closest to him for the past three years. At the very moment when the other ten are filled with joy, at the moment when all their hopes are fulfilled, when every moment of the recent past makes sense, Thomas is not there, he has cut himself off. Those of us who have suffered depression might recognize Thomas' behaviour; the response to pain and grief is a wish to hide, a wish to be as far away as possible from the place and the people associated with that hurt. Perhaps depressives are a reminder to us that we cope differently with situations, that we do not all think alike, that we do not all feel similar emotions.
It is in Verse 25 that  Thomas expresses his doubt, "Unless I see the mark of the nails in his hands, and put my finger in the mark of the nails and my hand in his side, I will not believe." Is this not Thomas being a scientist? Is this not Thomas applying good scientific method? Thomas has heard the disciples' hypothesis that Jesus is alive and he wishes to apply good empirical tests to the theory.  Is it doubt for Thomas to ask for reasonable evidence? Is Thomas not applying the logic that Jesus himself applied when we read of the healing miracles and Jesus telling those healed to go and show themselves to the priests? Thomas' question is the sort of question we might ask ourselves. Doubt, questioning, a desire for proof are part of our thought processes. Thomas is post-modern man with his distrust of all that he is told. Scientific method is a quest for truth and without truth, then we have nothing.
The final Thomas we encounter in the Gospel story is Thomas the theologian. Jesus does not ignore Thomas' questions, he does not dismiss Thomas' desire for evidence. Verse 27 says that Jesus said to Thomas, "Put your finger here and see my hands. Reach out your hand and put it in my side. Do not doubt but believe." Jesus might have appeared and simply said to Thomas, "here I am, now do you believe?" Instead, Jesus responds to Thomas' queries. In Verse 28, Thomas answered him, "My Lord and my God!" Thomas declares Jesus to be a personal and a cosmic reality. Jesus is Lord for Thomas, he is also the presence of the God of all the universe. Thomas as theologian prompts us to think about our own theological position, when we read the resurrection story, how do we respond?
The radical, the pragmatist, the depressive, the scientist, the theologian – let's not just call him doubting Thomas.