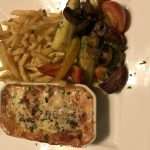 Friday lunchtime in a small English country town and the choices of eating places for lunch seems bewildering: how does a small town sustain so many establishments, all of them seemingly thriving? Ducking through the doorway of a centuries old pub, the bartender asks if there is anything they can do.
"Lunch, please."
"Here's the menu. The specials are on the blackboard."
A note at the top of the menu advised that all food was freshly prepared and to please allow waiting time for meals. Finding a table in the shadows at the corner of the room, there was an opportunity to sit and listening to the conversation among other customers.
A group of older people sat around a table close to the bar. Their lunch was finished and they had called for the dessert menu. The talk was loud and lively.
One woman declared, "The European Union is not like the NHS, where foreigners come and get free treatment." It was an assertion that did not correspond with personal experience. Having had the misfortune to have spilled a hot drink and needing to attend a minor injuries unit, the greeting from the nurse had been to come through immediately to have the scald dressed. Such immediate treatment was prevented by a receptionist who insisted no treatment would be possible until proof of identity and proof of entitlement to treatment had been established. An Australian woman who had arrived with chest pains was subject to similar requirements.
The chat drifted from the deficiencies of the NHS to matters more esoteric and bizarre. A man whose hair looked suspiciously black told the company, "During the opium wars the Chinese banned the export of rhubarb on the theory that the English would die of constipation." It was hard to discern a logical thread in the discourse, perhaps non-sequiturs were not uncommon in the gathering. Perhaps company and an audience were more important than content.
It was half an hour before the lunch arrived, spinach canelloni with pan-fried vegetables and fries. Pub cuisine has changed considerably since the days of steak and kidney pie or meat, potatoes and two veg.
Sat pondering the world whilst finishing the glass of cider that had accompanied the meal, the silence was broken by the landlady who seemed to appear from nowhere to take away the empty plate. "I hope the food was alright."
"It was excellent, thanks."
And it was.