Methinks he did protest too much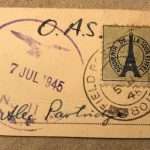 All that remains of the souvenir postcard is the top right-hand corner showing the stamp, postmarks and addressee on one side and the statistical dimensions of the Eiffel Tower on the other. Had it reached my grandfather intact, it would have remained intact, and might have found its way into one of his stamp albums, interesting for is postmarks, if nothing else. As it was, it was just a snippet of a postcard with a stamp that was not a postage stamp and was tucked inside an album, probably as a book marker, and slipped out and fell to the floor yesterday.
"Uncle Alec" to whom the card was sent was not really an uncle, but some sort of cousin of my grandmother. He was a man of markedly conservative views who would write to me sending me cuttings from the Daily Telegraph, the contents of which did not interest me, or which I disbelieved. On one occasion he wrote to my grandmother complaining about my rudeness in not sending him a postcard to acknowledge receipt of a large envelope of cuttings he had sent. Not having wished to receive any correspondence from him, and knowing a letter would only elicit yet more press comment on people with "liberal" views, I delayed my response even further. He then accused me of having a mind that was "poisoned" by studying at the London School of Economics.
I knew little about him. I assumed that having been born into a London suburban Edwardian home, and growing up in a genteel family, he just reflected the spirit of his times. It was only in much more recent times that I heard the word "conchie" used about him. Uncle Alec, it seemed, had come from a Quaker family and had avoided military service during the Second World War on the grounds of being a conscientious objector.
Oddly, his conscientious objection to participation in a war for the survival of civilised society seemed almost an explanation for his attitudes in latter years. It seemed seemed almost to explain his desire to present himself as a traditionalist and a patriot; his final years seemed a disowning of his younger years.
When the postcard from the Eiffel Tower had arrived in his west London home on a July day in 1945, in that time between the end of the war in Europe and the  end of the war against Japan, what thoughts had passed through his mind? When he saw the Field Post Office postmark, and had realised that, despite there being peace in France, the censor's stamp still appeared on mail, did he feel that history had passed him by? Were those letters with their cuttings expressing trenchant right-wing views no more than an attempt to wrap the flag around him and pretend to be something he was not?