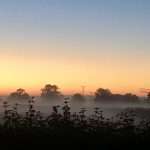 The mornings have been breathtakingly beautiful. The sky in the east before dawn has been filled with deep shades of yellow and pink and orange. The mist blanketing the fields beyond the hedgerows has created a mood of magic and mystery. To imagine the Roman soldiers who are said to walk the roads around Low Ham would not be difficult; a dark shape moving in the greyness might easily be a legionnaire. 
People rise early in the village. Cars pass along the road before six o'clock. Commuters bound for Bristol or further afield are driving before seven. To delay invites the possibility of being caught in the congested arteries of the city. Distances are not great, Bristol Airport lies just twenty-eight miles from the village, but at busy times driving the country roads that lead to it are rarely travelled in less than an hour.
The motorway is reached by crossing a stretch of Sedgemoor before climbing to the ridge that forms the Polden Hills. The road along the top is grandly designated the A39. It is a single carriageway with high hedges on each side. The names of the villages signposted to the left and the right have a poetry of their own: Shapwick and Stawell, Catcott and Cossington.
Puriton had always the capacity to inspire fear in childhood days. The Royal Ordnance Factory was there until its closure in 2008. In the 1960s, memories of there being an explosion in the factory in 1951 would have been still very fresh. Six workers had died in the blast and it was hard to imagine what devastation there might have been if the entire plant had exploded.
By the time the M5 motorway is reached, there is a line of cars waiting at the lights at the roundabout. There are drivers who seem to jockey for position on the two lane slip road. The traffic on the motorway moves in pulses. Big clusters of vehicles are interspersed with seconds of quietness. To drive at less than sixty miles per hour invites being tailgated by a large truck.
Each morning, at around 7.20 am, there is a white lorry driving northward at a steady speed. "Royal Devon and Exeter Hospital" is painted on the back and on the side. It is always around the same point on the motorway, suggesting it departs at the same time each morning. Presumably it travels to collect supplies. On mornings like those this week, it would be hard to imagine a journey more pleasant than travelling through Somerset listening to the radio.