After the 1918 general election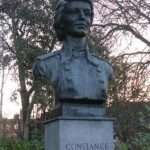 Today is the centenary of the British General Election of 1918, the centenary of the first time opportunity for women to vote. It is the centenary of the election of the first woman, in the constituency of Dublin: Saint Patrick's, Constance Markievicz, a Sunn Féin candidate, defeated the existing Member of Parliament, taking two-thirds of the vote in the poor, working class constituency.
A big house Protestant, Constance Gore-Booth, the Countess , commanded the Irish Citizen Army in the College of Surgeons during the Easter Rising of 1916.  It is said that after the rebels had surrendered, she was recognized as someone from a different social class and offered a lift in his motor car by the commander of the British soldiers.  The Countess declined; preferring to walk alongside the remnant of her makeshift army.  A bust of Con Markievicz now looks impassively across the ornamental gardens once garrisoned by her comrades; her fresh face and groomed hair marking her out as coming from a prosperous background in a country that was filled with the direst poverty.
Escaping the death sentence passed on her male comrades, Markievicz was imprisoned and turned her back on the tradition in which she had grown up, and was admitted to the Roman Catholic Church.  She found the Church of Ireland tradition from which she came so alien to everything she believed, that she felt that she could only fully identify with the poor by being part of the religious tradition to which the majority of them belonged.
Were Con Markievicz living a century later, it is hard to imagine that she would find congenial the opinions of any church. Undoubtedly, her radicalism and engagement with the socialist Irish Citizen Army would be as much condemned by the bishops now as it was in 1918. But what she would have made of the Ireland that has emerged from the hundred years of history since her electoral triumph? Perhaps there would be both disappointment and delight. Disappointment that despite the wealth of the country profound inequalities and injustices have remained, perhaps disappointment that Irish unity has never been achieved. But would the first woman elected to a seat in the Westminster parliament not feel a certain delight? Constance Markievicz never took her seat at Westminster, she and the other Sinn Fein members elected would form the first Dail In 1918. As Britain engages in that act of self-immolation that is Brexit, would Con Markievicz not be pleased that Europe stands in solidarity with the strong and free Ireland she, literally, fought to create?