Santa is safer than Mary and Joseph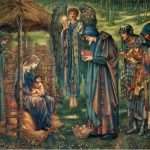 In Spanish-speaking countries and in the Philippines, today marked the first day of the Misa de Gallo, the nine dawn Masses leading up to Christmas, Masses celebrated to mark the journey of Mary and Joseph to Bethlehem. The tradition is that they took nine days to make the 145km journey from Nazareth to Bethlehem.  The tradition suggests that they travelled just ten miles a day, it seems slow progress, but on rough roads, with a young woman who was nine months pregnant, perhaps those who began to mark the tradition were being realistic.
In Ireland, the journey of Mary and Joseph is still marked by a Christmas Eve tradition of leaving a lighted candle in the window of the house on Christmas Eve to show that a weary couple would be welcome there.  It's a tradition captured in Cathal O'Byrne's poem, Christmas Wayfarers:
Redden the hearth and sweep the floor,
let the candle-light through the pane be showing,
bring sweet well water, and leave the door
loose on the hasp, for who would be knowing
what poor soul, lonely and travelled far,
walking the world on the naked highway
might follow the gleam of the Candle-Star,
and its welcome win in this lonesome byeway.

So, for sake of two who went out from the city
by bridle lanes down to Bethlehem
and who failed to find there, for love or pity,
a kindly soul who would welcome them,
redden the hearth, let the comfort-sharing
glow of the peat-fire shine fair and bright,
and may a tired, poor Man and a Maiden wearing
a mantle of blue, be our guests to-night.
In the Gospels, hospitality is assumed to be at the heart of being a Christian. When Jesus is trying to teach his followers about God, he uses examples of generous human hospitality.  Hospitality has come to mean welcoming friends at our own convenience. In Jesus' time it was altogether more demanding, it meant putting yourself out for others, without hesitation offering a welcome to those who came to the door.
Hospitality demands direct personal involvement, it asks much more of than putting money in a basket, or giving to charity, it asks for involvement with people who are strangers, with people who are different, with people who may not be likeable. Hospitality demands personal sacrifice.  Welcoming strangers is not convenient;  it is much safer to turn Christmas into a feast of Santa than to recall tales of a poor couple on the streets.