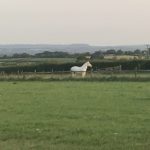 There was the sound of pounding hooves carried on the evening air. Such is the tradition of myths and legends in this place that it would be easy to imagine hearing such a thing, easy to imagine Arthur of the Britons, or a knight of the round table, or Merlin, riding through on horseback. The hooves would pound northward to Avalon or eastward to Camelot.
But the sound continued. Through a newly created opening in a hedgerow, with wooden railway sleeper gateposts and makeshift gates, there was a glimpse of whiteness. The horse raced around its paddock with seeming delight.
Walking up the road meant losing sight of the horse, but the sound of its hooves grew louder. There was a clatter of iron shoes against concrete as it walked from its paddock into the loose box that is its home.
Passing the stable yard, there was a hope of catching a closer glimpse of the white horse. Perhaps it would value human presence, perhaps it would imagine that a human might mean food. There was a feeling of disappointment when the white horse did not venture out of its box. Perhaps it had grown cynical about the possibilities presented by humans.
What is odd is that there would have been no such fascination if the horse had been bay or chestnut or black.  Even if the horse might be described by some as grey, its brilliant whiteness set it apart from other horses. So why would a white horse have an attraction of its own?
Perhaps it was those summer holiday television programmes in childhood years about the Lippizaner white horses with the theme music sung by Jacky. Perhaps it is the accumulated effect of years of hearing the tales of mystical heroes in times past, riding white horses against the powers of darkness and evil. Perhaps it is the similarity of the white horse to a unicorn, a creature whose appearance is slightly more probable than an Arthurian wizard. Perhaps it is the result of seeing paintings and pictures of leaders and commanders contemplating battles from their white mounts.
Whatever the reason for its appeal, the white horse of Windmill Road seems a wonderful creature. What is it about the whiteness of a horse that sets it apart from its fellow creatures?
Can you still put a handful of sugar cubes into your pocket and go to a gate and talk to the horse on the other side?