Being reminded of our place in society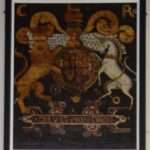 The previous day, the long-suffering Richard had agreed to give my car a look over at eleven o'clock the next morning. With the garage closed over the Christmas and New Year period, he had found himself inundated with calls and suggested I return in an hour. It was a perfect length of time for which to wait – not long enough to go anywhere else, but sufficient time to enjoy its passing.
Walking through Langport, there was time to get a haircut before climbing the hill, passing by the Hanging Chapel and coming to Huish Episcopi church. My grandparents. Alec and Geraldine Crossman rest beneath the soil in the churchyard, as do their forebears.
Stepping inside the mediaeval church, thought beautiful enough to once feature on an English postage stamp, there was an absolute silence within. A stained glass window of the Nativity by the pre-Raphaelite artist Edward Burne-Jones reminds a casual visitor that there were once monied people in this parish.
The Crossmans were never amongst the monied classes. Yeoman farmers, written records of their local presence extends back to 1627. As was the way in small rural communities, cousins often married cousins, making the genealogy more a tangle than a tree.
Eighteen years after that first documented appearance, Langport became a focus of a battle between the forces of Parliament and the Crown. The Crossmans took the side of Cromwell and his Roundheads, who routed the king's forces in a battle across the parish boundary with High Ham. Few local people can have had sympathy for the Royalist army in the aftermath of the battle. In an attempt to hinder the Parliamentarian advance, Crown troops set fire to buildings in the town of Langport. The king's men, who had armed local "clubmen" in the hope they would help bolster the Crown forces, found themselves being attacked by those very men who were trying to defend their homes and businesses.
In 1660, the Monarchy was restored; the years of the Commonwealth had been bleak for ordinary people.
A dozen years after the Restoration a large coat of arms of Charles II was placed above the doorway of Huish Episcopi church. Three hundred and fifty years later, it still retains its colours.
To those who passed beneath the coat of arms each Sunday, after attending services as they were obliged to do, the coat of arms was a declaration of the sovereignty of the king. To the yeoman farmers who had been foolish enough to support Parliament a generation previously it was a visual declaration of the order of things, a reminder of the social hierarchy that dominated their lives. Crossmans have been a stoic, grudgingly conforming people in the centuries since.