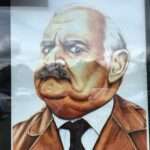 No caption is necessary, no explanation is needed, it is Arkwright and the subliminal message to those of a certain generation is that this shop is a place where the proprietor will keep an eye on them.
Who is Arkwright? He is the central character of the BBC Television 1970s comedy series Open all Hours. Played by Ronnie Barker, Arkwright is a personality so memorable that he is instantly recognizable more than forty years later.
Television characters from the 1970s have that quality. Apart from watching television, there was not much for a teenager to do to pass the evenings. Watching television meant watching one of three channels. Given that BBC 2 did not show much that might have been considered to be viewing for all the family, there were really only two channels, BBC 1 and ITV. 1970s television audiences in England used to be huge, ten, fifteen, even twenty million viewers for the most popular programmes. People watched in numbers that dwarf those attracted by television programmes now, for the simple reason that there was no other choice.
Arkwright was among a number of iconic figures, characters whose names are instantly recalled, characters whose words could be easily recited.
The writers of BBC comedy programmes were especially successful as creators of icons. The front rank of Walmington-on-Sea Home Guard platoon still feature in television schedules more than fifty years after they appeared. The actors who played Captain Mainwaring, Sergeant Wilson, Lance Corporal Jones along with Privates Frazer, Godfrey, Pike, and Walker can hardly have imagined that their characters would endure for so long.
In the year that Arkwright first appeared in his shop, the gentle theme music of Last of the Summer Wine was also heard for the first time. Compo Simmonite, with his moth-eaten woollen hat, and Norman Clegg, with his tweed flat cap,became familiar, instantly recognizable faces, as did Nora Batty with her crinkled stockings.
What was it that made unlikely characters into icons? Perhaps it was simply that  we saw them so often. Yet if frequent screening was the explanation, then why are there so many series that have been forgotten? There were programmes regularly aired in the 1970s that have not been seen since, (which, in some cases is probably a cause to be thankful).
Perhaps it is because there is something universal in the characters, aspects of their personality with which everyone can identify. Perhaps there is something of the frugality of Arkwright, and the self-importance of Mainwaring, and the naivete of Pike, and the mischievousness of Compo, and the stoicism of Clegg, in those of us who watch (well, there is in me).