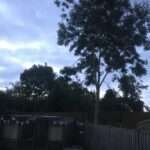 The minutes fall away from the days, the long hours of May, June and July recede into the past as the dark half of the year approaches. Journeys to and from work will soon be made in darkness, the landscapes of the Severn and the Avon disappear into a dark blanket. Sometimes changes can take place which only become noticeable when the light returns.
An email from Rwanda reminds me that a friend lives in a permanently equinoctial land. Two degrees south of the equator, it is said that the difference between the shortest day and the longest day is only eight minutes. I have never checked the precise lengths of the Rwandan solstice days, but having visited the country around the times of the summer and winter solstices in Europe, there has been no indication from the sunrise and the sunset as to whether it is June or December. One year, only a Christmas tree at Kigali airport reminded me that I was returning to cold and darkness.
Always aware that I was a rich European who did not have to endure the realities of life faced by most Africans, there was nevertheless always a sense of delight in waking before dawn in Rwanda.
There is still a nighttime darkness in much of Africa that is absent from much of Europe. Electricity is becoming widely available, but the light pollution found in European skies is rare.
So close to the Equator, twilight is short. The transition from complete darkness to sunrise lightness is a quick one, and in it a whole world comes to life.
Waking at 5 a.m., the sounds are already numerous. People preparing for the activities of the day ahead. Voices, motor cycle engines,?water being pumped, spoons against pots and pans, individual sounds are distinguishable in the sharply cool morning air.
Rwanda is five thousand feet above sea level, it escapes the humidity of lower lying countries, mornings come with a freshness that prompts people to wear coats or shawls.
In the minutes around the sunrise, there seemed always a feeling of excitement about the day that lay ahead. There would be visits to projects in villages, conversations with those who staffed the clinics, schools and churches. There would be frustrations and disappointments to accompany other, more positive, stories of health improved and examinations passed.
There was a balance in the days, an unhurriedness. There is still in Africa a sense that life is for living and that money and material things must take a second place. Perhaps the equinoctial darkness is a guarantee, you cannot work too early or too late. When there is no light, there must be time for talk and sleep.