Putting a station in the wrong place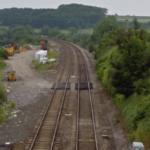 Reporting on last week's announcement that there would be a feasibility study into the re-opening of a Somerset railway station, the Somerset Live site made the same mistake I once made.
The railway station that might be revived is at Upton, it is a place that would figure in some of the our family's stories. It was merely a halt at which a few local trains would stop, but because it was on the mainline between London Paddington and the West Country, and because express trains would go hurtling through it had a romantic air about it. Adventures could start at this little place on our doorstep.
My grandmother would catch the train at Upton. Of course, Upton wasn't its proper name, it was "Long Sutton and Pitney," but since it was at neither, the name of the hamlet in which it was situated was used by local people.
My grandmother's death in February 2007 brought memories of the station, and a month later I went back to the spot to look for some spirit of the place.  The twin tracks ran towards Taunton in one direction and Paddington in the other and in the darkness of a March evening there was little to see. I leant on the wall of the bridge and stared into the gloom.  What might have once been the edge of a platform still remained on one side of the tracks, but it was hard to know.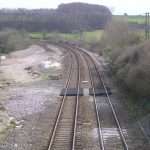 The station was closed for decades, but it had been my Nan's gateway to the world, it was a special place to her and her family, and one morning, ten years ago, I returned on a bright morning to look again for the station.
It appeared to have moved! To the east of the railway bridge, there were signs of what had once been a crossing and to the north side of the tracks, rubble strewn ground.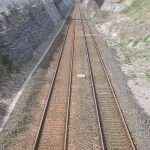 To the west side, where I had peered into the darkness in 2007 there was the imagined platform on the south side of the track, but nothing else.  Had the family stories been misheard for more than forty years?
My mother has an extraordinarily retentive memory off people and places.
"When you went to catch the train at Upton, which side was the station on?"
"The left."
"But that side is very narrow."
"The station was very narrow – just a platform, no ticket office.  You bought your ticket from the guard on the train."
"So what was on the other side? What was here, where the rubble is?"
"That's where they loaded milk onto trucks – it was always open space."
Last week, Somerset Live made the assumption I had made.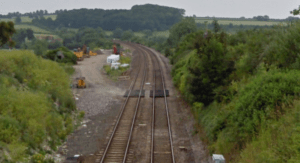 https://www.somersetlive.co.uk/news/somerset-news/somerton-langport-new-train-station-4740110