History teaches it is wise to avoid Afghanistan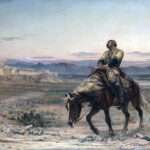 The image was imprinted on my childhood mind, an exhausted man on a horse that struggled to remain standing. Remnants of an Army was inspired by the story of Assistant Surgeon William Brydon. Brydon was the solitary European to reach the British fort at Jellalabad, Afghan forces had massacred a British column of 16,000 soldiers and civilians under Sir William Elphinstone.
The first Anglo-Afghan war was fought between 1839 and 1842. Jellalabad was a familiar name for a schoolboy in Somerset because the soldiers at the fort to which Brydon had ridden held out against Afghan attackers for five months. The regiment was known as the 13th Foot, became the Somerset Light Infantry. The barracks in Taunton became Jellalabad Barracks and part of the town became known as Jellalabad to commemorate the battle.
The heroism of the men from Taunton could not efface the thoughts of the massacre from which William Brydon had escaped. Had I been asked at primary school, I would have said that it was not wise to send our soldiers to Afghanistan.
Undoubtedly, my opinion was coloured by stories passed down through the family.
Quartermaster Sergeant Charles Bennett, whose clock presented to him on retirement in 1886 sits on my mantlepiece, served with the British forces in the Second Anglo-Afghan War of 1878-1880. The objective was to create a buffer against the Russian Empire and the campaign was victorious, but it cost 9,850 British lives. The British realized their continuing presence was a provocation to the Afghans and by April 1881 the British forces had withdrawn from Afghanistan, leaving the tribal leaders to control the country.
Charles Bennett died from illness in 1887. His military service had taken its toll. He had not reached the age of fifty.
A century later, prior to the Soviet invasion of Afghanistan in 1979, it was said that Soviet agents scoured bookshops on the Charing Cross Road in London in a search for works on the British campaign.  It seemed absurd that a mechanised campaign with aerial support would have anything to learn from the campaign of 1878-80, which achieved its objective only lead to a withdrawal, but lessons were not learned and the Soviets were left to withdraw in ignominy.
Perhaps those responsible for the invasion of Afghanistan twenty years ago in 2001 would have derived little that was useful from antiquarian books, 1878 belonged to a different world, but lessons might have been learned from the Soviet experience. The essential one being that the geography of the country and the physical resilience of its people make in unconquerable. No matter how successful a military campaign, eventually you have to go home.
The success of the Taliban would have been no surprise to those who served with William Brydon.