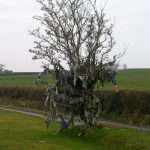 'Spy Wednesday', said the lady in the hospital.
'Indeed', I said.
It was a term I had not met until watching Terry Wogan in the days of his early evening chat show in the 1980s when he opened a programme with a welcome to his viewers, 'on this Spy Wednesday'.
An Internet search offers little explanation of where the custom began. It owes its source to the account of Judas agreeing to betray Jesus, but the custom must have become well established in Ireland for an octogenarian lady to use it  in her greeting.
Moving from Northern Ireland to the Republic of Ireland in 1999 brought many changes, but most were official, legal, bureaucratic. Traditions in south Co Dublin, sprang few surprises; leisure time seemed spent on sport or shopping, hardly very different from any other major city in the Western world. If people had come to Dublin from communities with strong local traditions, they seemed to leave such customs back in the counties that had been home.
Only when moving from Dublin to rural Ireland in 2010 was there an encounter with communities with long memories.
Local saints are greatly revered. In this part of Laois, abbot of Clonenagh commands pride of place in local history. His name is found as patron of churches and schools and as a common forename among men.
The holy wells are treated with respect. The day of the saint with whom the well is associated is still often observed by local people following 'patterns', ceremonies centred around the well. Taking part in a pattern last year, which included a walk from a holy well to a rag bush (a tree believed to be holy where people tied items and offered prayers), I observed to a Catholic bishop that the tradition seemed pre-Christian. 'Pre-Christian?', he replied, 'it's pagan'.
Burial grounds are treated with an astonishing degree of care. To walk through many cemeteries is like walking through a park. Even old cemeteries have been restored; grass cut to lawn length, briars removed, walls re-pointed, headstones rehabilitated.
Sport is intensely local. The parish base of the Gaelic Athletic Association creates a huge sense of local ownership. It is hard in Dublin to imagine the pride that parishes here take in local football and hurling teams. There is nothing comparable in Britain; maybe nothing comparable anywhere else, either.
Farming is a complete culture of its own. The young people in a class I was teaching in September 2010 could not understand how I would be going to France on holiday instead of attending the National Ploughing Championships, an event which draws tens of thousands on each of its three days. They shook their heads last year when I said I would again miss an event which is an important date in their lives.
Tradition in these communities is so strong, so deep, that it rarely needs to be articulated, 'sure, doesn't everyone do that?'
The resilience of local identity through economic upheaval and globalisation of culture is remarkable.
Spy Wednesday.
Indeed.