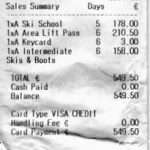 It must be twenty years ago, now. Challenged about how she could work for an aid agency, but drive a big BMW, the speaker was dismissive of the question. 'Lifestyle stuff is irrelevant', she argued, 'it's structural justice that we need. Things won't be changed by the car I drive'.
The comment showed how naive I had been in my assumptions. Challenged by the work of Ronald Sider published in the late-1970s, I had taken to heart books like 'Rich Christians in An Age of Hunger' and 'Living More Simply'. I had thought that the decisions I made about how I spent my money made a difference, now a seasoned campaigner on aid and development issues was telling me that my expenditure was irrelevant, what mattered was getting governments to change the world.
It is a tempting line to buy – campaign for change, but spend with a clear conscience – but it's a lie: individuals can make a difference.
Returning from a week in Austria on Saturday, there were credit card slips in my wallet to be checked against the online bank statement – one struck home forcibly. The holiday itself had cost around €800, but that was only the start of the expenditure.
One of the slips was itemised:
1 x Ski school               €178.00
1 x Lift pass                  €210.50
1 x Keycard                      €3.00
1 x Skis and boots     €158.00
The €3 for the Keycard was refundable, leaving a balance of  €546 or €91 a day – to ski, on top of the cost of the flights and the hotel. €546 is more than a teacher's annual salary at a Rwandan school I visited last month. Had I chosen to laze around the hotel's indoor pool, to walk the local trails, to drink hot chocolate in the town cafes instead of those on the mountainside – I could have had money enough to send the school the pay needed for another teacher to be appointed. It would have been a simple matter, I have the school bank account details.
Should you have read this far, you probably face similar choices. If you buy a newspaper each day, it's likely to cost over €500 a year. Should you watch satellite television instead of the free channels, it will cost you at least €300 a year. If you drink or smoke, the annual bill is likely to be considerably more than the African teacher's annual income. You do have a choice: if you have no other avenue through which to give, I have bank account numbers for the school, for an agricultural programme, for numerous other projects where impacts are made by sums in hundreds rather than in thousands.
We have a choice. Structural justice, international justice, is needed, but we have a choice whether we change individual lives. Should we drive a large German car, we have a huge potential for choice.