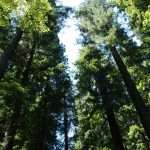 A farmer of advancing years tells the story of a young man from a neighbouring farm who in the early-1900s decided that the future lay elsewhere. In the company of two friends, he set out for British Columbia. The crossing by sea was not easy and they were relieved to reach dry land. 'How much further to Vancouver?' asked a friend. They were not sure, one thought that a rail crossing of the continent could take three weeks. They were tired of travelling, 'Let's find work here.'
They found labouring work with lumberjacks. Hard and heavy with housing that was basic, they spent three years in the forests. Remote from the local towns, the opportunities for spending money were limited and the young man saved most of what he had earned.
Deciding to continue westward, he headed out into the Prairies where the government were allocating land, providing that those granted plots produced crops. The man was granted a half section – some 1,200 acres, but it was scrub and he was expected to grow wheat. With a horse drawn plough and two men working for him, he cultivated the land and built a farmhouse. He never did go to British Columbia to make a future there, his Saskatchewan farm eventually grew to 4,000 acres.
The farmer recalled the man's visits back to Ireland, 'he called the farms here 'patches,' and so they were – a few acres and a hard life'.
'I remember going out to visit; walking up to the railway and watching a mile long train loading grain from one of the big silos. There were two train drivers and the silo operator and the wagons were filled in no time'.
Canada for him was a vast and mythical place where there was no necessity even to lock the doors. It was a place where you could start with nothing and make a good life.
Emigrants now do not have such opportunities. The days of opening up new territory are back in the mists of history; the possibilities of becoming a great entrepreneur, a great business tycoon, are the stuff of dreams. We have become more worldly wise, yet that world has become tame and domesticated. Would it now be even permissible to decide not to proceed to the intended destination and instead to find three years work by word of mouth? The visa, the permits, the paperwork, the bureaucracy would inhibit such possibilities. In fifty years time, there will be no emigrants returning to tell of lumberjacks and Prairie farms.