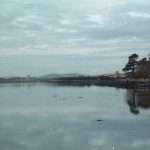 Keeping a memory box was the subject of this morning's school assembly; somewhere we can keep the pictures and mementoes of special moments, something we can open in the future and recall times that were important. 'I keep lots of bits and pieces in a drawer of a wooden desk', I said.
It didn't seem necessary to say that the drawer includes old news cuttings, pieces cut from newspapers of the times as reminders of what things had been like. There is one cutting that never loses its power, the story of a tragedy in the parish where I had been curate.
He had gone to England for work; there was nothing to be had on this side of the Irish Sea, and he wanted to be able to give his children a life that didn't revolve around waiting each week for meagre state benefits. What he earned had to cover his keep in England and what was left to send back didn't cover the cost of family life at home. He hoped to get a better job, but the shortfall meant that his wife back at home had to work until things improved.
She had a clerical job. Her mother looked after the three children during the week: two girls, one of school age and one just below school age, and a baby boy.
Flying home at the weekends was not an option in those times, typical air fares were around £200, at least two weeks' wages. He got home when he could.
One weekend morning, after she had worked a long and tiring week, she was asleep in her room with the baby. Somehow the older girl got matches. One was struck that set light to part of the furniture in the girls' room. There were no flames, just fumes that filled the room, fumes that claimed the lives of both little girls.
The newspaper cutting has yellowed with age, both the girls would be in their thirties now, but will forever remain children peering at a camera; children forever missed.
How many times did their parents say, 'If only. . .?' They had done what they believed to be the best for their kids. There would have been little for the children in their father sitting at home on the dole in a housing estate that he and his wife dearly wished to escape. They did what they believed would bring a better future.
Hardly a happy ending, but two years later a second son was born; he got work in this side of the Irish Sea and they had a new home.
More than a quarter of a century later, what pictures do the parents now have from those times? If I had been them, what would I have kept?