The ministry of 'a decent man'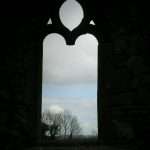 A colleague died this morning, a good man, a Godly man, cut down by illness long before his time. He had recently marked a quarter of a century as rector of his parish, a corner of our rural diocese where he fulfilled a calling to be a faithful shepherd and knew the sense of having been a part of a community where he was known and loved.
In Dublin days, I used to wonder about clergy such as he, an engineering graduate, immensely able priests who spent the years of their ministry in what seemed to me to be rural obscurity. It was only gradually that I came to realize that, while Dublin was a grand place to live, there would never be that sense of community, there would never be a sense of rootedness, comparable with small town Ireland. There is a warts and all quality in rural life that cannot be disguised by pretence. In small communities where everyone's business is known, being the person you are is the only option available.
Perhaps the best country parishes are those where you open the local weekly paper and see the name of the local clergyman, not because he has sought any publicity, not because he has come up with anything novel, but because he is at the heart of the community and the news is about the life of the community; faith and life combine seamlessly.
I remember five or six years into my eleven year spell in Dublin, maybe around 2005, giving notice that in 2011 I planned to move back to the country. (The move was to come in 2010, a year earlier than I had anticipated, and was to be to Co Laois, as far from the sea as it was possible to be, rather than to the coast of Co Wexford, for which I had hoped). The desire to move to the country wasn't because I didn't love being where I was, I did (who could not love Killiney Bay?), but it was because I hadn't a clue of how to really engage with the challenges of ministry in an urban setting, and because I was trained for ministry in a bygone age, where the priest and his people shared the life of a close knit community.
I took years to realize what my colleague had known all along. When we gather on Monday to bid him farewell there will be deep and genuine grief in the whole community at the loss of a man who was part of their lives, his ministry of presence and pastoral care having an impact immeasurably profound.
In the tradition of the actor Paul Eddington, who, when asked what he would like his epitaph to be, said, 'I think I would like it to be 'He did very little harm', there was a friend in college days who said his aspiration in life would be that his own epitaph simply said, 'a decent man', that he would show the qualities of a decent man, a quiet and gentle goodness and loving-kindness.
The colleague who died today was that, 'a decent man'.