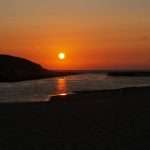 The worst thing about unisex hairdressers was the conversation. Go to a barber's shop and the chat is of work or sport; go to a unisex place and they could be talking of anything. It was at a unisex hairdresser in Co Down that a woman declared loudly, 'Any good weather after the Twelfth is a bonus', as if meteorological conditions followed the dates of the marching season.
Had the comment been true, it would have been depressing. Given the propensity of Irish summers to arrive late, a closing date in mid-July would have made them exceedingly short. Of course, the woman was wrong, the folder on the kitchen worktop proclaimed the error of her views.
Holidays in those times were taken with Eurocamp. The full cost had to be paid ten weeks before departure and its payment would prompt the dispatch of the folder.
A beige canvas wallet , adorned with the red and green of the company colours, its contents were a passport to days dreamed of all through the winter. There were vouchers for ferry travel,going via England meant four sailings each year, and vouchers to be produced to gain admission to the campsites, usually two or three, depending on where our journeying might take us. Brochures of a Eurocamp format described each place in which we would stay and Michelin maps showed us how we would reach our destinations. The maps always brought particular delight, unfolding the crisp paper of tracing routes from the channel to a place on another coast – sometimes the Mediterranean, more often the Atlantic. Each item in the folder would be carefully examined and carefully returned in precise order.
The folder was a tangible assurance that days of sunshine were coming, that the woman was wrong; wrong that year, wrong the year after; wrong as long as there were autoroutes to carry us southward.
The holidays were not exotic, not luxurious, caravans on campsites the size of small towns; but their approach each year lifted the heart. Of course, like Christmas, they rarely lived up to what might have been anticipated, but no matter, the anticipation itself was what mattered most. The counting down of the days, the purchase of things needed, the annual quest for beam deflectors for the headlights – each was part of a ritual.
Holidays now are September and the caravans are past, but the little rituals continue
The earliest booking ever was for August 2006, booked on 12th July 2005, perhaps, deep in the sub-conscious, there really was a fear that any good weather after the Twelfth was a bonus.